Selecting your wedding colors is one of the first things you will do before you decide on venues, the dress, your wedding invitation design and flowers. Needless to say, it's a pretty important part of the big day. For winter ceremonies, you might think that the well is dry when it comes to colors. After all, the season can get pretty drab and grey at times. However, one of the most beautiful and original color combos I've seen recently with winter brides is cranberry and ice blue.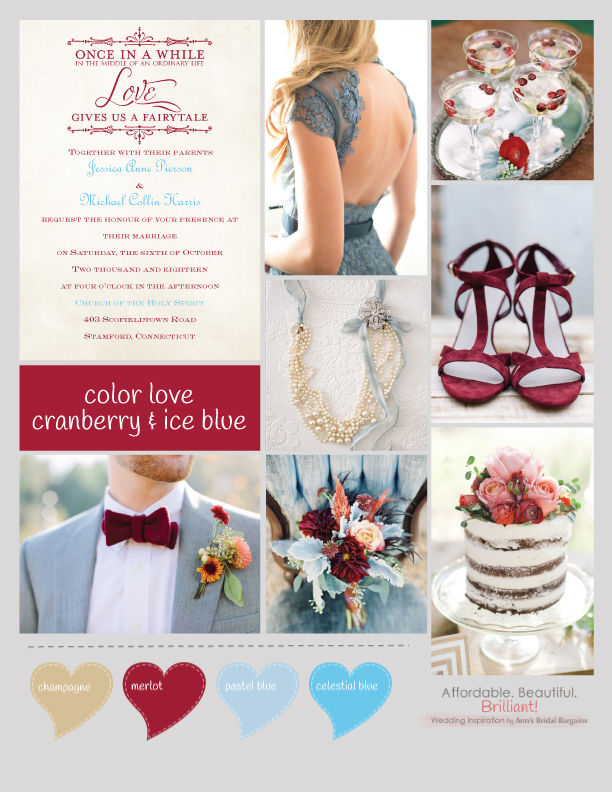 The thought of pale blue conjures up images of snowflakes and icicles (think winter queen), while cranberry instantly makes you think of a seasonal food spread. In a way, the possibilities of this combination are endless, and there are many ideas – from feathers, scarves and hot cranberry cocktails – that can spice things up while planning your winter wedding. Here are a few to get you started:
Bridal attire: Baby blue heels? Yes. Not only will you most certainly be wearing these shoes again, but they are a shoe-in (no pun intended) for your something blue. If you really wanted to go all out with the color combo, you could even opt for an ice-blue wedding gown, such as this one in Bliss Celebration Guide. You'll feel like an ice princess instantly, and when you pair the dress with a bouquet full of deep red flowers, you'll really bring the two colors to life in a charming, rustic way. As for jewelry, there are many stones that you can opt for, such as rubies for a cranberry theme, or aquamarine, a light blue version of an emerald.
As for the bridesmaids, you have a lot of choices. Luckily, both of these shades are going to look great on just about everyone, and they can be mixed and matched in a variety of ways. Baby blue dresses would look wonderful paired with a late fall/winter bouquet full of burgundy roses. Likewise, cranberry attire matched with bouquets of light succulents could be extra eye-catching as your ladies walk down the aisle. If you really want to make your bridesmaids happy, let them opt for ruby red heels – almost every gal is going to want to add beautiful red shoes to their closet!
Groom attire: When it comes to the guys, you might want to go with light grey suits, as they will closely resemble an icy blue and match really well with crimson boutonnieres. If you wanted to go all out with the winter theme, you could even pair the suits with floral arrangements that include actual cranberries. This will give the cutest hint of the holidays without going overboard. Or go for cranberry-colored bow ties like this groom did, via the Bride Link. Add in a crisp white dress shirt underneath, and your guys are ready to rock a winter wedding. Of course, if it's quite chilly out, you can always have the groomsmen opt for light grey sweaters in lieu of jackets.
Cocktails and beverages: It might be chilly and cold out, but thankfully, you can warm your guests right up with deliciously warm cranberry cocktails and beverages. For instance, your wait staff can combine hot cranberry juice, orange-flavored vodka and a slice of orange for a simple yet delicious warm winter drink (just omit the vodka for your under-21 guests). Top with a fresh cinnamon stick as a stirrer and you have some of the best winter ingredients around in one glass. More of a whiskey fan? Bourbon works well with this recipe too! Or, if you'd rather go the Champagne route (I can't say I'd blame you), you can still incorporate cranberries into the mix with this sparkling cranberry tea cocktail recipe via 100 Layer Cake, which incorporates ginger ale, fresh tea and Grand Marnier.
Reception decor: One of the cutest ideas I've come across while wedding planning actually involves real cranberries via Wedding Chicks. Fill mason jars with fresh rosemary, add a handful of cranberries, then top with a votive candle (if your venue doesn't allow candles, this arrangement will still look plenty adorable without the flame). This way, your reception venue will release amazing winter aromas, and you'll save a ton of money on table decor, as these components are cheap and widely available during the winter season.
Cake decor: Winter weddings give you a lot of options for cake toppers and decor, and one of the best ideas I've seen came once again from Wedding Chicks. The combination of cranberries, pine cones and fresh pine add all of the elements of Christmas morning without stealing too much from the wedding vibe.
See? Winter weddings are more versatile and exciting than you thought, huh? With these excellent wedding colors to present during the big day, you can wow your guests and have an unforgettable ceremony and reception.
Photo Credit: Groom: Red Fly Studio via Style Me Pretty, Bridesmaid dress: Angelworx Angelie Hafzullah via Burnetts Boards Blog, Bouquet: Adam Barnes via Wedding Chicks,  Shoes: Christine Meintjes via The Pretty Blog, Invitation: Charmed – Petite Invitation via Ann's Bridal Bargains