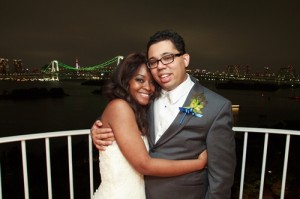 If you're planning a wedding, chances are you've turned to bridal blogs for help and inspiration. But what about finding that inspiration if you're planning your nuptials in another city or even another country? Where can destination brides turn for guidance, especially if they're trying to stick to a budget?
This week we're talking to Dorian Smith-Garcia, founder and editor of The Anti Bridezilla and recent destination bride. Dorian dished about her own wedding, how to stay calm during the planning process, top bridal style tips, and her favorite up-and-coming destination spots – trust us, you're going to want to take notes!
Can you tell me a bit about yourself and your involvement in the wedding industry?
I am a bridal blogger, and I got started because I just got married this year … we were going to originally get married in the Caribbean, but some things happened with the venue and we weren't able to, so we ended up actually getting married in Japan.
One of the things we noticed when we decided to do a destination wedding is that people automatically think it's going to be in the Caribbean or Mexico, but as soon as you try to have a wedding that's not in one of the those locations, people make it seem like it's such an impossible task. And the reality, I found out, is that's not the case. There are tons of venues around the world and around the U.S. that have experience in destination weddings, and they can potentially do better weddings than if you went to the Caribbean or Mexico.
My site originally started as our wedding site, I was just going to do our blog that we updated daily, and then people kept coming up to me [saying], "You're such a chill bride, you're not going crazy because you had to change your venue after you already put a deposit down." So I rebranded it at the end of 2012 and [it became] The Anti Bridezilla.
The big focus of The Anti Bridezilla is fashion. But another major aspect is how to plan a destination wedding if you don't pick the Caribbean or Mexico. So a lot of that includes me highlighting venues across the world, as well as giving people how-tos and helpful information, to give them an idea of how not to feel overwhelmed, especially if you're planning a wedding remotely.
So can you talk a bit about your wedding and the snafu with your original venue?
We were going to get married in St. Lucia. At the time, I didn't want to have very young children there, but I unfortunately forgot that my youngest sister-in-law is under 18, and the venue we picked was an 18-and-older all-inclusive resort.
At the time, we were going to have a really large reception, so we were talking about potentially 150 guests that would have come to one resort, everybody staying there, plus the cost of the wedding. And when I reached out to the venue and asked, "Hey, I know I put the deposit down, but is it possible for me to get a wristband for my youngest sister-in-law … so she can attend the wedding?" the venue ended up coming back to me saying they don't do that, we'd have to check with the head of corporate [to find out] if she can come to the wedding. It was ridiculous – I basically said "OK, give me my deposit back, thank you very much."
My full-time job – or, what I do outside bridal blogging – is [running] an entertainment marketing company. I work with Japanese artists, so I do actually go to Japan a lot and I've always loved Japan. And one of the big things I've always wanted to do was get married there, but originally I thought my mother wouldn't be interested in traveling that far, which is why we originally [booked] the Caribbean.
And so I talked with my mom, talked with my then-fiance, and we said, let's just do a real destination wedding. We're going to drop the numbers by a lot by having a max of 50 people instead of 175.
A lot of the tips I give people are a lot of the things I personally experienced with my wedding venue. One of the things I did was go on Expedia and look at people's reviews and different hotels in the Tokyo area – that was March 2013, and [in] May 2013, we went out to Japan to actually look at venues in person and meet with the wedding planning team.
We ended up picking the Hotel Nikko Tokyo, which is gorgeous, and we went back again this February to do final run-throughs, and then in April, of course, we got married there.
So how many people came to your wedding?
We had 20 people at our wedding, which, when you think about going that far, is more than enough. Because logically speaking, even though I gave people details and travel information … it's a really far trip – a 14-hour flight. So I really don't blame anybody who's not able to make a trip that far.
We had a really great time, we were there for a week, and part of what we did was group activities. We did Tokyo Disney … I love Disney World, I've been to Disney World way too many times, so going over there was fantastic. We did a lot of sightseeing around town, it was definitely a whirlwind. It wasn't a vacation for me or my husband, just because we had so much to do …[but] it was definitely a dream wedding, I had an amazing time!
What's feedback been like on your site? Have people been reaching out to you saying it's helped them?
Absolutely. I get the people who are nowhere near wedding planning, they're just in love with weddings. And what they love on my site is the fashion, because I tend to focus on the couture … so people come to my site looking for – whether or not they can afford it – the $5,000 dresses.
I also have people who really are planning a wedding, and maybe they're thinking about a destination wedding off the beaten path and they didn't know how to move forward with it, so advice in the articles really helps them in that respect.
Can you talk about hidden costs in destination wedding planning?
Traditionally, if you were going to go to a Sandals or a Club Med-type place – we originally were going to Sandals, so I can speak from experience – they make it user-friendly and there's a limited selection of options you can choose from. For the most part, they do most of the work for you.
When you decide you're going to go somewhere else, there's more legwork involved and potentially more hidden costs. So, from my personal experience, the first thing is cultural differences. In Japan specifically, they do western-style weddings, but there are certain things that are very different.
For example, we have [a] rehearsal dinner. When I mentioned that to them, they were like, "You mean you want to test the food out?" and I said "No, I'd love to test the food out, but that's not what I meant." Additionally for them, when they do an actual wedding reception, they don't normally have the dancing portion like we do in the west. So telling them that we needed extra time for dancing and dinner, it's something they weren't familiar with.
Even though I know Sandals would encourage you to pick the venue and not show up until your wedding day, I would never recommend that. Obviously at Sandals you know what you're getting yourself into, but I still wouldn't do it. So sometimes there are other hidden costs, depending on how far away you're trying to get married, you have extra trips to take before the wedding to make sure the venue is on-point.
Another thing would be having a good wedding planner, especially if you're doing [a farther] destination, you really need to know that the person you're working with understands your vision, and more importantly, it's somebody you can rely on. The planner that came with my venue was amazing. She worked crazy hours – even though it's a 13-hour difference between us, she was very much on it. And she was there the entire time of my actual wedding, as well.
Your site is called the Anti Bridezilla. Can you tell me what some bridezilla characteristics would be?
Well I really preach about not being a bridezilla. Because I work in the entertainment industry, I've come across my fair share of people with attitudes, so I try to avoid that, especially when it comes to wedding planning!
Obviously I get it, it's a stressful time, but when you're dealing with so many different vendors, you get much better service when you treat people well. Of course, if something's happening that's not to your standards or to your liking, you have the right to express your displeasure, but you don't have to act like you're trying out for We TV.
It's great to be caught up in the big day, but you're actually getting married to somebody. You need to keep in mind that it's not all about the big day, you're starting a new chapter of your life.
I always really preach to people that when you feel yourself getting overwhelmed, take a step back. At the end of the day, it's just flowers, it's just food, it's just cake. Your wedding day goes by so quickly – I spent a year and a half planning my wedding, and I felt like it flew by in two minutes. So don't leave it with hard feelings, don't have it where vendors are avoiding your calls and emails. Try to maintain perspective.
What are some of your favorite wedding trends?
One of my favorites is the idea that bridesmaids don't all have to match. I only had two bridesmaids because it was such a far wedding, but even if I had something in the U.S., I like the idea of a color palette, where everybody picks [a] color, but they can have the choice of styles. I think it's important that people are able to pick a dress that they like and could use again.
The idea of signature cocktails is also something that I've seen trending, and it's also a great way to save money. If you can't afford the full open bar, then you and your fiance can pick a couple of signature cocktails and make that the bar, and then it reduces the cost of having a fully stocked bar.
In terms of actual wedding dresses, horsehair trim has been huge. Whether it's 1-inch trim or 3 inches of trim, I've seen it from Romona Keveza to Eugenia Couture … everybody's been running with it.
Illusion lace has been huge this year … when it's done right, it's fantastic. I'm pretty sure it will be a big feature again in 2015.
Also color has been huge, whether it's pink to even people doing purple – Suzanne Harward from Australia did a chartreuse dress and it's amazing.
As far as cities in the U.S., are there any places that would make a cool destination wedding?
When you think of wine country, you think of Napa Valley, but upstate New York has a ton of wineries that make fantastic destination wedding locations, especially if you're located on the East Coast. It's a bit cheaper to get to upstate New York than it is to get to San Francisco.
Having said that, San Francisco is great – amazing locations for having destination weddings.
Montana is also a great place to have a destination wedding. In my opinion, because it's somewhat overlooked, it's a great price-friendly venue to have a wedding.
And it's kind of nostalgic for me because I used to watch the TV show Dallas, but Southfork [Ranch] is a real place, and that's something in Dallas or in Dallas County that would be a fantastic destination wedding if you're nostalgic or love the idea of a big Texas wedding.
Great tips, right? Be sure to check out The Anti Bridezilla for more tips and tricks, especially if you're planning a wedding from a distance. We'll be back soon with more vendor spotlights, real bride interviews and money-saving tips that will help you plan and keep you sane.