During wedding season, mason jars are one of the biggest trends I've seen in reception spaces in the past year. Although these simple glass jars are remarkably inexpensive, there is something classic and homey about them – they're simple and straightforward, which is probably why they always seem to pop up in a rustic wedding.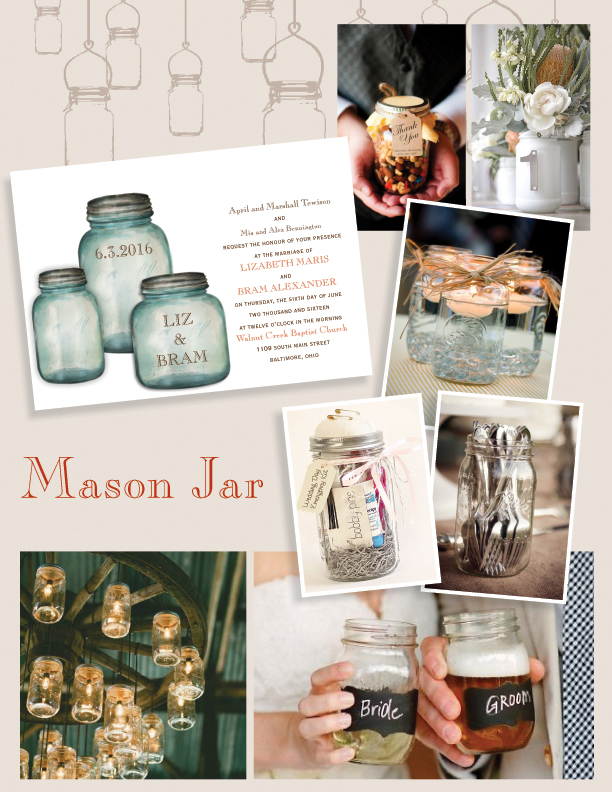 Because it's fall, canning jars are a major trend in general thanks to the season's harvest, so it's a perfect time to get some inspiration from these adorable containers. No matter your wedding palette or design esthetic, mason jars are a charming addition during your reception. Here are some delightful ideas to put mason jars to good use:
Using mason jars as drinking glasses
Forget about wasting the extra dough in your wedding budget for fancy stemware. Place mason jars on the tables so your guests will see them as soon as they walk in. You can even personalize the jars with name tags so that there are no slip-ups and your guests will know to use them as mugs. As an added bonus, you can let these country-style drinking glasses serve as a creative (and useful) wedding favor for your guests to take home. Whether it's beer, wine or a fancy cocktail, a mason jar is up for holding whatever your bartenders are mixing and pouring. There are even tiny mason jars available that can double as a shot glass for your guests. Cheers!
Don't mess with a good thing
Mason jars are traditionally used for canning, so why not let your wedding favors reflect this vintage tradition? Have a local farm fill small mason jars with honey, molasses or preserves (depending on the season), and then place them on the tables as a fun and traditional wedding favor. I can't think of a cuter way to promote environmental friendly practices in a country wedding.
Add vintage fabric
Just looking at a mason jar conjures up images of the good old days. You can run with this old-fashioned theme further by adding vintage materials like lace, ribbon or twine. Consider choosing classic flowers, such as baby's breath, to add to the romantic theme even more.
Mason jars make the perfect vases
Looking for an inexpensive but effortlessly chic design for your centerpieces? The solution is simple: Pick up a crate of mason jars. The possibilities are endless when it comes to mason jar vase ideas. You can spray paint them with your wedding colors, then add neutral white flowers (roses, lilies and hydrangeas immediately spring to mind) for an elegant touch to your reception tables. If you prefer colorful flowers, you can also create a silver or gold mystique by using metallic paint for the mason jars. Sand, colorful petals and even small rocks can also serve as a base for your flowers and add a lot of class to country wedding decor.
Light it up
It's doesn't get more romantic than twinkling lights. Luckily, you don't have to spend a fortune on an expensive lighting scheme. All you need are some strings of standard white Christmas lights (you can even opt for LED bulbs if you want to cut back on energy consumption) and then gently stuff them into the mason jars. Think of it as a deconstructed garden lantern. In the same vein, mason jars become instantly beautiful when you drop tea light candles in them, especially if you are hosting an evening reception. I've even seen couples use solar lights in mason jars in their reception lighting schemes – talk about mixing the old with the new!
Hang 'em up
Mason jars are small and lightweight, so there's so reason why you can't use them for hanging plants and flowers. Imagine walking into a rustic outdoor reception space and seeing dozens of hanging plants in adorable mason jars! You can also use this same idea to create a unique chandelier scheme throughout the reception space.
Mix it up (trail mix, that is)
One excellent and creative wedding favor idea from Emmaline Bride involved mason jars and trail mix – seriously, who doesn't love trail mix? All you need to do is buy the materials for this tasty treat in bulk, place them in mason jars and have them serve as favors for a rustic wedding or a ceremony in the woods.
Encode a message
Use a hot glue gun to write words in the jars, allow the glue to cool, and then use matte spray paint to cover the message. You can write whatever you want on the jars, but many couples opt to keep it simple with words like "love" or the names of the bride and groom followed by the wedding date. This is a wonderfully inexpensive way to personalize your mason jar centerpieces.
Mason jars are back in a big way for weddings, and with these budget-savvy wedding decoration ideas, you can bring country and class together for a beautiful rustic wedding.
Photo Credit: Emergency kit: 'A Casarella via Wedding Chicks, Table Number: Jennifer Sando via Wedding Chicks, Mason Jar Chandelier: via Consider This, Forks: Jennie Andrews Photography via Rustic Wedding Chic, Trail Mix: via Inspired Bird Net, Bride and Groom Mason Jar Glasses: Martha Stewart Weddings, Mason jar lights: via Hub Pages, Invitation: Canning Jars – Invitation via Ann's Bridal Bargains