Ann's Bridal Bargains is an industry leader in providing cheap wedding invitations but it's important to remember that "cheap" doesn't have to mean poor quality. At Ann's, we make sure our quality gives higher priced competitors a run for their money. How do we do it?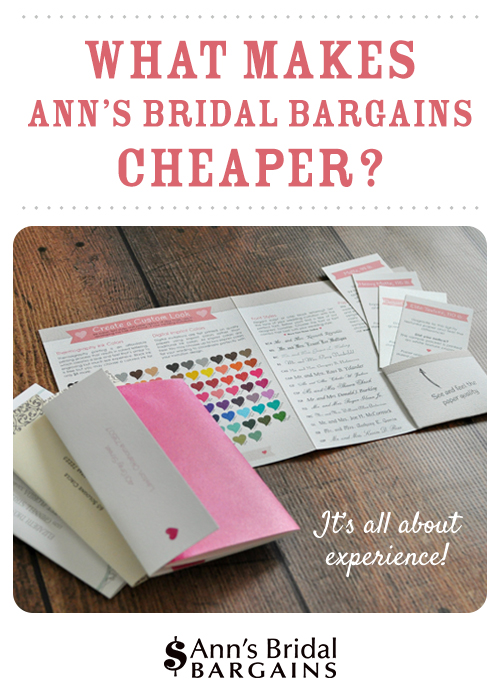 Expertise
Ann's Bridal Bargains began almost 15 years ago. Our sister company, Invitations by Dawn, just celebrated 35 years in January. We're not a start-up company dabbling in stationery. We are a wedding invitation company focusing on affordability. We have the experience and resources needed to design cheap wedding invitations that retain a high standard of quality.
Smart Design
We offer a great selection of invitations featuring smart design. For example, the seal and send invitation is a self-mailing, all-in-one option — no need for additional enclosures! Our separate and send invitation is another all-in-one option. Its efficient use of printing and space makes it an economical choice yet both collections still offer beautiful design.
Paper Choices
Most of our invitations are printed on 94 lb paper with 13.5 point thickness and a matte finish. Our standard paper is a fine choice and the most economical option, but couples can upgrade to a higher quality for a small charge. We want to make sure our couples have choices! Click here to see more about our paper options.