Have you been thinking about DIY wedding invitations? Any couple wanting to save money will consider taking wedding invitations into their own hands but we have another option that's much easier and still very affordable.
Dress up your invite!

You can add a variety of DIY accents to professionally printed wedding invitations. We've chosen some rustic wedding invitations and dressed them up with super cute burlap flowers. All you need are glue dots and burlap flowers from your local craft store. It doesn't get easier than that! The result is a super cute, DIY look without the time and hassle of actually doing it all yourself. Plus, with such a great selection of discount wedding invitations here at Ann's, you're certain to save money.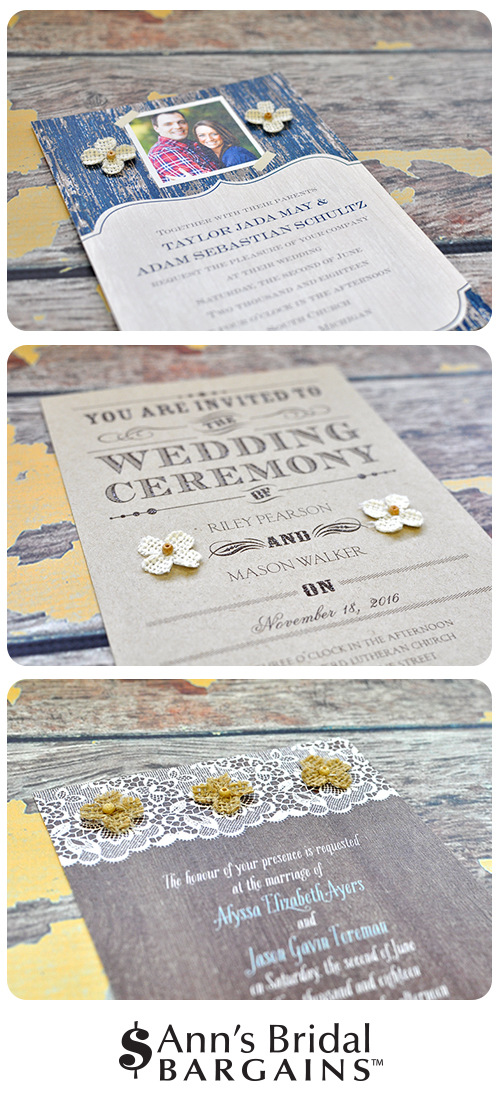 Is this cheating? Probably. If it saves us time AND money, we're okay with it. Check out more Dress Up Your Invite posts for more easy DIY wedding invitation ideas. We've used lace, feathers and ribbon.
Featured Designs: Rustic Whimsy – Invitation with Free Response Postcard, Country Couple – Invitation with Free Response Postcard, Worn Wood – Petite Invitation, Typography on Kraft – Invitation, Woodgrain and Lace – Petite Invitation