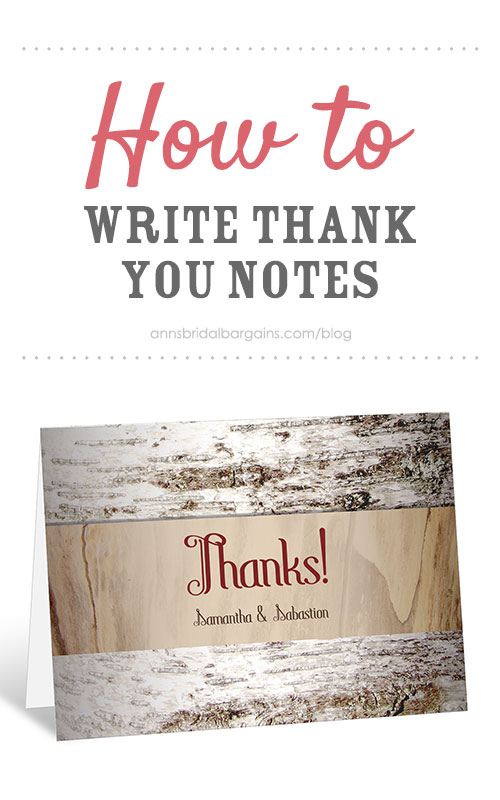 Ahh, alas, you are thinking about the final piece of your wedding puzzle: how to write thank you notes! Growing up, many of us thought of thank you notes as the dreaded, time-consuming task of thanking our grandparents and relatives for birthday gifts. But now that "snail mail" is becoming obsolete, we can all agree how fun it is to get real mail in our mailboxes! This is a guide to making thank you notes less of a task and more of a gift for your guests after your wedding.
Who to thank
First and foremost, no matter how many thank you notes you're going to write, remember that each and every note will be opened and read by a person or family as a way to commemorate the special event that took place. Even if writing thank yous gets old for you, opening them up is a completely different, special experience!
There are four groups of people who are most important to thank:
Your wedding party,
your vendors,
anyone who hosted any type of pre-party or played a big role in your wedding day, and
those who gave you a gift.
You should thank your wedding party separately and more personally than everyone else. A fun, personalized gift (something engraved, sewn, etc.) is a great idea that adds a special touch to this thank you.
Thank your vendors with a card and tip. You don't have to personalize this message, but you can write or print a sweet line on a card, like "thank you for making our wedding vision come to life" that accompanies a tip you can afford to give.
The work that goes into bachelor/bachelorette parties should be well-thanked, as well as anyone else who played a big role in your wedding day that might not have otherwise been recognized. They helped you out on your special day because they love you and surely deserve a handwritten and heartfelt thank you!
Finally, thank the generous givers of gifts from your wedding. The bulk of your thank you notes are for them and should have as much thought and love put into them as your other thank yous!
When to thank
Get organized as early as you can and have a general count of the number of people you'll be sending thank you cards to as well as what gift they gave so you can personalize those notes. Addresses can be nightmares, so make sure to save your invitation addresses or have a list of names and addresses ready to go (more on this later)!
It's generally good etiquette to not wait more than 3 months after your wedding date to send thank you notes.
Make it easy for yourself!
All the preparation you're doing now, including reading this, is preparation that will make the thank you process infinitely easier when that time comes!
Prepare
A great idea for thank you note prep is to designate a place at your wedding for guests to help you do some of the writing. No, we don't mean writing their own thank yous, but writing their addresses on envelopes for you! On the welcome table at your wedding, for example, set out a stack of blank envelopes with a sign next to them requesting that your guests write their names and addresses on an envelope. Have them place it in a basket on the table and voilà! You'll have pre-addressed envelopes prepared.
Use the perfect formula for thank-you notes
This is where writing thank yous might get a little dry, so it's worth the time-saving effort to have a checklist of the most necessary inclusions of thanks in every note so you don't forget anything, but also have each note heartfelt! Here's an outline:
Dear [insert name],
Thank you for the [name the gift…be descriptive!]. We plan to [write how you will use the gift]. [State why you are thankful for the person/people who gave you the gift here].
[Close with a "thanks again" saying].
Sincerely,
[Couples' names]
Use stock lines to your advantage
Now is not the time to fret about writing similar thanks to each person; like we talked about before, they won't judge you for writing the same "thank you" lines on each note (chances are, they won't even know!) and there are a lot of great lines to incorporate into your thank you notes that will keep you excited about writing them!
A few cute lines to use are:
"You are a great friend; I will think of you every time I use _____. Thanks again."
"With friends like you, every day is truly a celebration."
"Your generosity is truly appreciated."
"Your thoughtfulness and friendship means so much to me. Thanks again."
"Thank you for making our wedding day absolutely perfect."
The Dos and Don'ts of thank you notes
Do! Keep track of who gave you what on your wedding day or before. Have someone keep track for you, writing each gift down as you open them to save yourself from mistakes later on.
Do! Coordinate the thank you note style to your wedding invitations. This creates consistency and cohesion for your entire wedding and will wrap it up nicely.
Do! Make sure to thank everyone verbally, too. If you have time during your wedding day, a simple thanks for being there to celebrate with you is worthwhile to make sure the guests feel welcome.
Don't! Try not to wait longer than 3 months to send thank you notes—even 3 months is stretching it. You won't forget who gave you what and have this task lingering on your mind and your guests will still have the wonderful memory of your wedding day bright in their minds.
Don't! If you received a cash gift, never mention the amount on your thank you note. Keep things simple by choosing a stock line we mentioned earlier and inserting "gift of money" wherever you need to.
Don't! Verbal thank yous at your wedding are wonderful and we highly recommend it, but it's not enough to leave your guests lacking a hand-written thank you. If you're thinking about skipping out on thank you notes because they take too much time, this guide should help alleviate any issues you have!
Types of thank-you note ideas
If you haven't searched "wedding" on Pinterest yet to get creative ideas for your big day, we have some of our very own thank you note ideas on Pinterest to share with you!
You can personalize your thank you by ordering photo thank you cards. The picture you choose could be from your wedding day and you could…
Hold up chalk boards that say "thank you" on them
Use heart-shaped rocks somewhere in your picture (a great idea if you're having an outdoor wedding)
Make your own pennant banners with each pennant containing a letter of the phrase "thank you!"
Spell out "thank you" using scrabble letters
Hold up large signs expressing thanks (you have more room to write other phrases on the signs if you go this route)
Use an image collage of pictures from your big day in thank you postcards
Remember, you can also incorporate "thanks" as a part of your wedding décor. Even if you do this, though, it's still of highest etiquette standards to send hand-written thank you's.