Crocheting has become a lost art over the years but its beauty is not lost on us! With an abundance of crocheted doilies, tablecloths and throw blankets in the world, why not use these masterpieces for something as beautiful as a wedding? It's an affordable look, and it's perfectly romantic.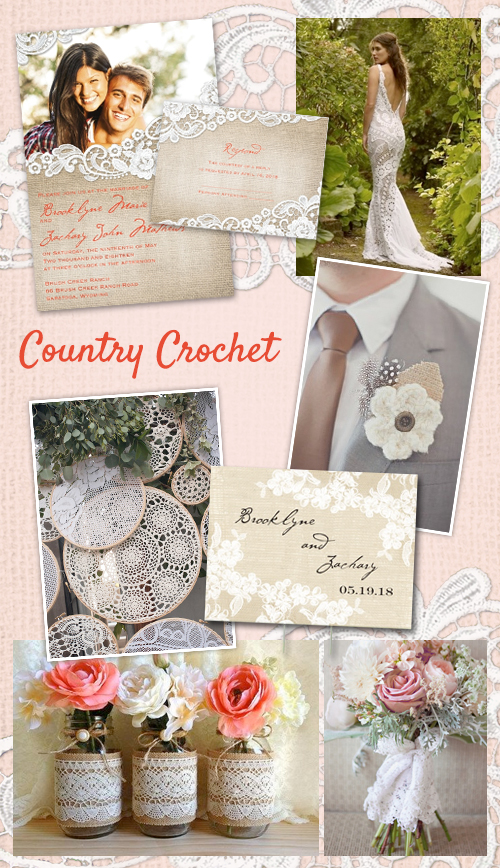 The Stationery
Since lace is so popular in weddings right now, crocheted lace wedding invitations are easy to find and there are a lot to choose from, which means finding a great deal won't be a problem! This Burlap and Lace Wedding Invitation is an excellent choice with crocheted lace framing your photo. We also threw in the Burlap and Lace Yard Sign as the perfect way to help wedding guests find your ceremony and reception.
The Attire
You simply MUST have crocheted details as a part of your attire. It's very possible you can use items crocheted by your mother, your grandmother or even a close friend of the family. Or ask someone to make something for your wedding. Imagine using crocheted flowers as boutonnieres like the gentleman we've shown here; then wrap doilies around the stems of your bouquets for a sweet, coordinating touch. Oh, and look at that gorgeous crocheted wedding dress above the groom! Check out Sweet Violet Bride for more crochet wedding dress inspiration.
The Decorations
The ornate nature of crochet lends well to wedding décor. Plus, crocheted items can make for extremely affordable wedding decorations. Check your local thrift stores for doilies, tablecloths and table runners. Use these throughout your ceremony to add that country crochet feel. Embroidery hoops are a wonderful way to turn doilies into stunning décor, and they're often available at thrift stores as well. You can also get paper doilies from your local craft store as an easy (and inexpensive) way to dress up your wedding decorations. The mason jars shown here have burlap and paper doilies wrapped around each one.
Photo Credit: Wedding Dress: Sweet Violet Bride, Boutonniere: Venuelist, Crochet Hoop Decoration: Zaugh Photography via Ruffled, Mason Jar Vases: Paperblog, Bouquet: Lark Photos via Style Me Pretty