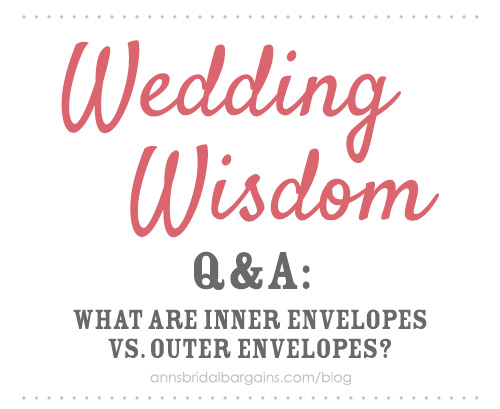 As you're shopping for wedding invitations, you will find that many come with two sets of envelopes. These are inner and outer envelopes. If you don't notice this when personalizing and ordering your invitations, you will definitely notice when they come in the mail (twice as many envelopes is hard to miss!).
So WHY are there two envelopes? The slightly smaller envelope is called an inner envelope. This is where you would indicate exactly who is invited to the wedding by listing each guest's name. The outer envelope is used for mailing.
Not all wedding invitation retailers offer inner and outer envelopes but it's standard practice for Ann's Bridal Bargains and our friends at Invitations by Dawn. Although some couples are choosing a more informal approach to addressing wedding invitation by relying on just the outer envelopes to indicate who is invited, we still think it's important to provide both so our customers can choose what approach they would like to take.
If you would like to learn more about inner and outer envelopes and see examples of how to properly address each, visit Inner & Outer Envelopes Explained.