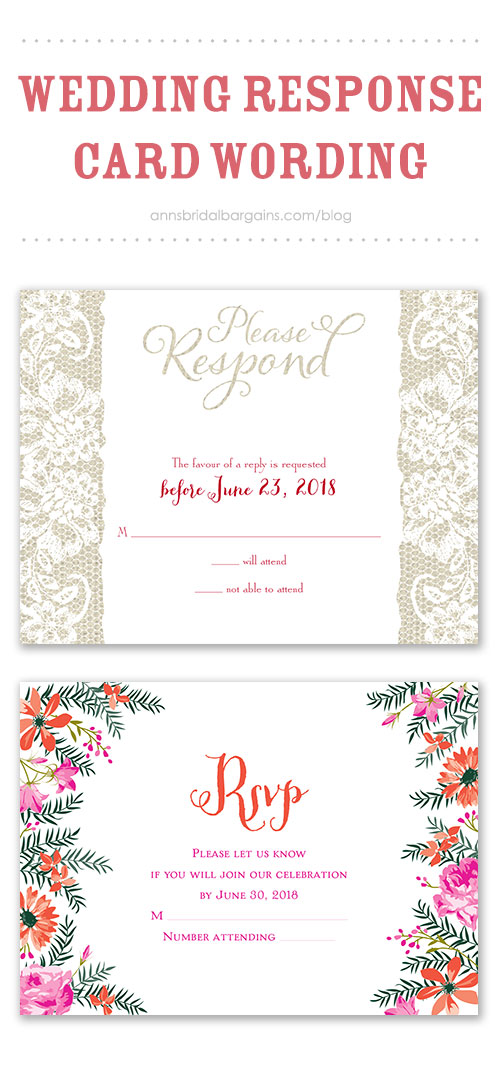 Another important part of your wedding invitation ensemble that will save you stress later on is the R.S.V.P. card. Or, as the French say: "répondez, s'il vous plait." In other words, "please respond." This is the standard for asking your guests if they will be attending your wedding. Sending RSVP cards will open the doors to accurate and budget-based wedding planning by helping you get an exact head count for the caterer and the venue as well as for DIY projects like wedding favors.
You have the freedom to make RSVP cards personal, traditional, funny, or something completely different. If you're planning a formal wedding, you might opt for more traditional RSVP wording:
RSVP
The pleasure of your reply is requested by [date]
Yes_____ No_____
If you're having an informal wedding or want to put your own spin on the RSVP cards, consider something more creative like the funny checklist or something nostalgic like the Mad Lib RSVP card shown below.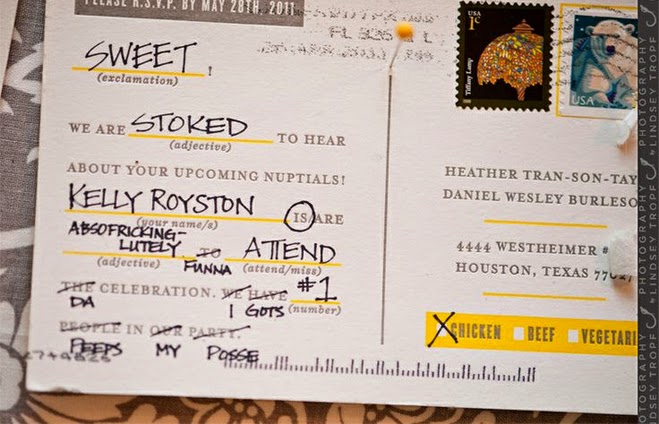 Regardless of what RSVP card you decide to go with, always:
Provide postage for your guests whether you're using traditional response cards or response postcards.
Include menu options or restrictions—vegetarian, chicken or beef,
Guest number fill-in-the blanks—_____ many people will join us
The guests' names; although, it's common to leave a blank so they can write in their own names and you don't have to
Your wedding website if you have one and/or registry information.
Be sure to stay organized as response cards start coming back in the mail. Mark your guests' responses on your wedding guest spreadsheet as soon as you receive them. Then tuck those response cards in a safe place until after the wedding just in case you need to reference them. You might need to check spelling of names or number of guests.
Photo Credit: Mad Lib Response Card: Pure Photography by Lindsey Tropf