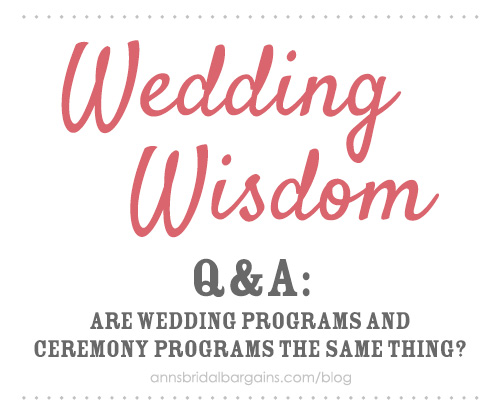 Yes. Although "ceremony program" sounds a little more formal than its counterpart, they both refer to "wedding ceremony programs."
What should go in your wedding programs?
The basic components of a wedding program include the order of service and a list of participants. If you would like to see some examples, visit our wedding programs collection. If you'd like to learn more about each component, keep reading.
The order of service can be as simple or as elaborate as the couple would like. If the couple is getting married in a church, the order of service may be more detailed. If the couple has chosen a civil ceremony, the order of service can be quite simple. Either way, most services follow a similar format:
Processional – Bridal party walks down the aisle.
Bridal March – Bride enters and walks down the aisle.
Welcome/Introduction – The officiant welcomes everyone.
Exchange of Vows – The couple recites vows and commits to each other.
Exchange of Rings
Pronouncement – The officiant declares the couple married. The couple will kiss!
Recessional – The couple and the bridal party exit the ceremony.
The list of participants is usually referring to the bridal party but also includes the officiant (person performing the ceremony) as well as readers and performers (soloists and/or pianists). This list may be as simple as mentioning the person's bridal party role and name or it might include the person's relationship to the bride and groom. Some couples get really creative and add a fun description for each participant. Check out this "Meet Our Party" design featured in a real wedding on Martha Stewart Weddings.com.
There are a few more things to consider adding to your wedding ceremony programs. More and more couples are including a thank you to their friends and family for attending the ceremony. Some couples are also choosing to include a message of remembrance for loved ones who have passed such as grandparents. Check out Wedding Memorial Ideas + Program Wording Ideas at Magnet Street.com to help inspire your own memorial wording.