Boho beauty meets autumn hues in our Fall Florals wedding look, and the result is nothing less than stunning!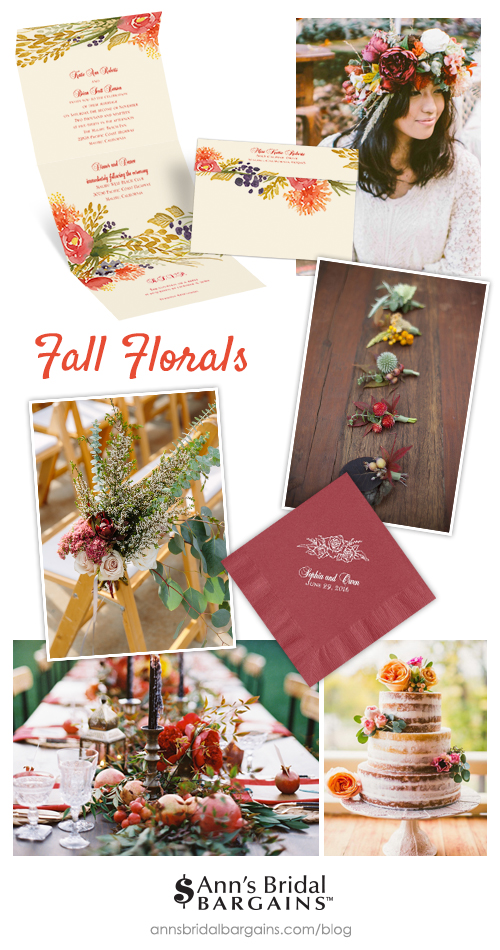 The Stationery
Start the celebration with a wedding invitation that embodies your wedding theme. This Fall Florals Seal and Send Invitation inspired our entire look of gorgeous floral arrangements and rich autumn colors. Perhaps you're not a fan of flowers playing such a big role in your wedding décor. Shop the entire collection of fall wedding invitations. You're bound to find a design so beautiful, you can't help but be inspired!
The Decorations
Fall colored flowers are featured everywhere in this look but you'll also see a variety of greenery adding the perfect finishing touch to each floral arrangement. (Can we just point out how fabulous the boho floral halo looks in the upper right corner? Oh, and don't tell the guys but those boutonnieres are adorable!) Lets not forget you can also branch out to fall fruits like apples and grapes instead of or in tandem with the flowers. Small gourds and pumpkins are another inexpensive option for festive fall décor.
The Colors
It may feel like autumn weddings must have an autumn color palette but that doesn't mean you can't throw in some colorful surprises! We love all the colors featured in the Fall Florals Invitation. You have the usual red, green, gold and orange but there are flashes of bright yellow and dark purple that make the invitation uniquely beautiful. Notice the wedding cake in the lower right featuring a couple soft pink flowers to break up the autumn hues. Don't get us wrong, we LOVE fall colors. But sometimes you have to shake things up a bit. Custom wedding napkins are a great way to add a pop of color for cheap.
Photo Credit: Floral Crown: Brit + Co, Boutonnieres: going home to roost, Chair Decor: Tory Williams Photography via modwedding, Table Setting: Tec Petaja via oncewed, Cake: Tulle & Chantilly