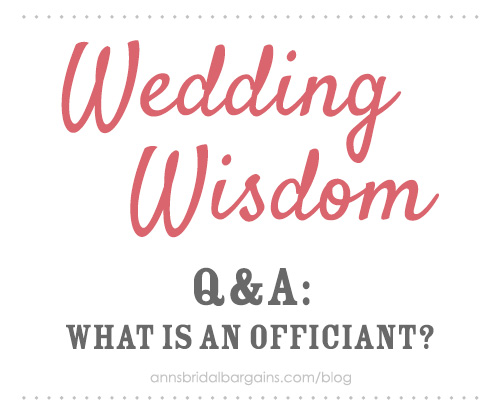 As you're planning your wedding, you may run across the term "officiant." The word officiant is just a generic term for the person presiding over the wedding ceremony. This person could be a minister, a priest, a judge or even a newly ordained friend. The one thing they all have in common is that they are legally recognized by the state in which your wedding takes place.
Each state has its own laws regarding marriage. Therefore, the legal responsibilities of the wedding officiant will vary depending on where you're married. Wherever your marriage takes place, the officiant is the person who signs your marriage certificate, which signifies two things: 1). he/she believes you to be qualified to be married according to state laws and 2). he/she has witnessed you sharing your wedding vows and has pronounced you married in the presence of witnesses.
Wondering where to find an officiant?
If you don't belong to a church and are choosing not to join one before getting married, you will likely be searching for an officiant to preside over your wedding. Consider these options:
Check out regional and state registries for ordained ministers. Remember to find reviews or testimonials on each person you're considering.
Ask other wedding vendors (like your reception venue) for recommendations. Photographers and ceremony musicians are also great vendors to ask.
Ask a family member or friend to become ordained.
Make sure you're 100% legally prepared for your marriage by reading our post on "10 Things to Know When Getting a Marriage License."