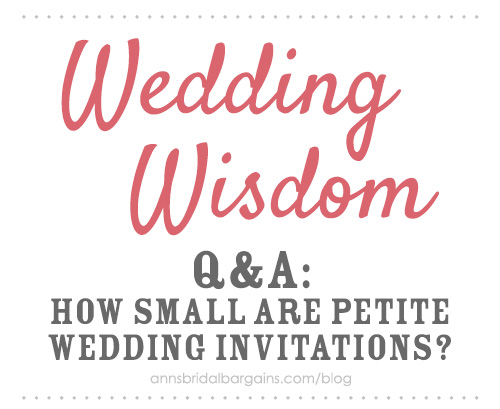 Wedding invitations come in all shapes and sizes. Our collection of petite wedding invitations is one of many lines we offer that uses size as a way to bring cost down for customers. Don't be fooled by the name though — petites pack a lot of style into a little invite!
Petite wedding invitations are 4 5/8" x 6 1/4" compared to our more standard invitation size, which is 5 1/8" x 7 1/4". That's the difference of an inch in length and just under an inch in width. Some couples love how cute and compact these invitations are whereas others want the more traditional look of a larger invite. Just like all of our wedding invitations though, petite invites are available with coordinating reception cards and response cards. You get the same great perks with petites as you would any other invitation, just in a smaller, more affordable invite.
We recommend that customers order samples of each size to see the difference. Just find a few designs you like (at least one petite) and click the "order sample" button. It's only 99¢ per sample plus free shipping!
Seal and send wedding invitations are another great example of using size and shape to bring costs down. Learn more about these clever invitations by reading What Are Seal and Send Wedding Invitations?