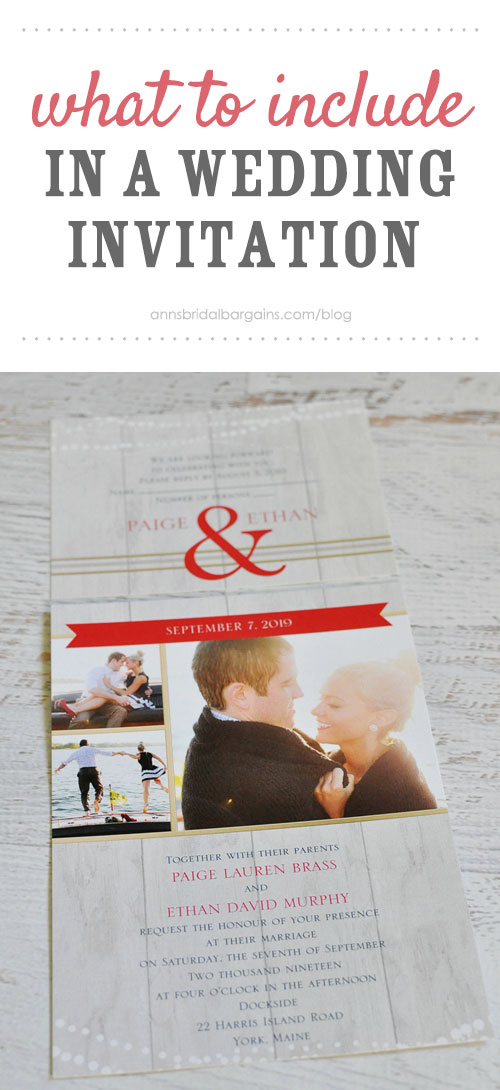 Making sure your guests have all the information they need will do wonders in ensuring they'll know exactly where to go, when to get there, what to wear, and who to bring to your wedding. You'll also be able to keep track of who's coming and who can't make it, thus making other parts of your wedding go more smoothly (like table settings, venue limits, thank you notes, etc.). The four most important categories of what to include in a wedding invitation are the "Four Wedding Ws": who, what, when, and where.
Who & What
The "Who": addressing your invitations—however you decide to do so—should be done with care and consideration. Your guests should be addressed with proper first and last names; make sure to use "Mr.," "Mrs.," and "Ms." labels for everyone if the wedding is a formal affair!
Your wedding: when wording your wedding invitations, it's customary and respectful to include the names of who is hosting your wedding (i.e., who's paying for it). Also, and it goes without saying, you need to include the happy couples' names! What's a wedding invitation without the wedding couple being identified?
The "What:" make sure your guests know it's a wedding they're coming to! Also, call out the attire for your wedding. It's very helpful for guests so they don't have to worry about coming too dressy or underdressed. You can include this information in the lower right-hand corner of the invite or on a reception card. Most attires fall into these categories:
White tie
Black tie
Formal or black tie optional
Beach formal
Semiformal or dressy casual
Casual
Mentioning attire on your wedding invitations means your guests can look up what each attire category implies and plan their outfits accordingly.
When
The fancy standard is to spell out, completely, the date and time of your wedding. Fancy looks like this:
Saturday, the third of June
two thousand sixteen
at five o'clock in the evening
The not-so-fancy way of writing a date would be by using numbers instead of spelling out all details. Just make sure to include an "a.m." or "p.m." designation so people know they're not invited to party at 8:00 a.m.!
Where
It's important to list all the venues that might be involved during your wedding day. First and foremost: your actual wedding ceremony location.
Then, if your reception will take place at a different location than the ceremony, put the reception location information on a separate card called reception cards. This card should include the location's name, address and time the celebration is starting. (If there is room on your wedding invitations, the reception information can be listed after the ceremony details.) If the reception is in the same location as the ceremony, just write "Reception to Follow" beneath the ceremony location.
Depending on who you're inviting, if they're from out of town or if your venues are in hard-to-find locations, you might consider including small, professionally printed map cards.
Another major part of your wedding invitation that will relieve stress for you later on are response cards also known as RSVP cards. This is a friendly way to ask your guests right off the bat if they're coming or not. RSVP cards are essential to budget-based wedding planning and will help you get a head count for everything from number of plates to the amount of wedding favors you'll need. Check out our blog post on RSVP response cards.