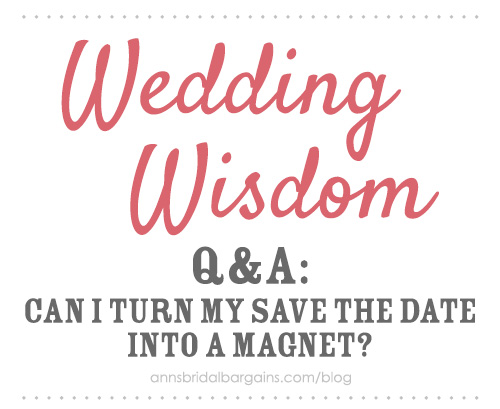 Couples are always looking for ways to simplify wedding planning while staying on budget and on trend. Save the date magnets are a great choice for today's couples and convenient for their wedding guests.
Whether you can turn your save the date into a magnet depends on where you're shopping. Here at Ann's Bridal Bargains, we offer a magnet option on many of our save the dates. Just look for the paper options available with the save the date you're interested in and you'll see whether it's available as a magnet.
As you shop, you'll notice that two-sided save the dates are not available as magnets. Our two-sided save the dates are primarily save the date postcards, which provide their own benefits of being very simple and requiring less postage. However, almost all of our one-sided save the dates do offer a magnet option. Our selection of one-sided designs includes lots of stylish photo save the dates, trendy typography, beautiful watercolor and so much more. Find your favorite!