Woodland weddings are magical! One of the best ways to get that "woodland" look is with lush green ferns.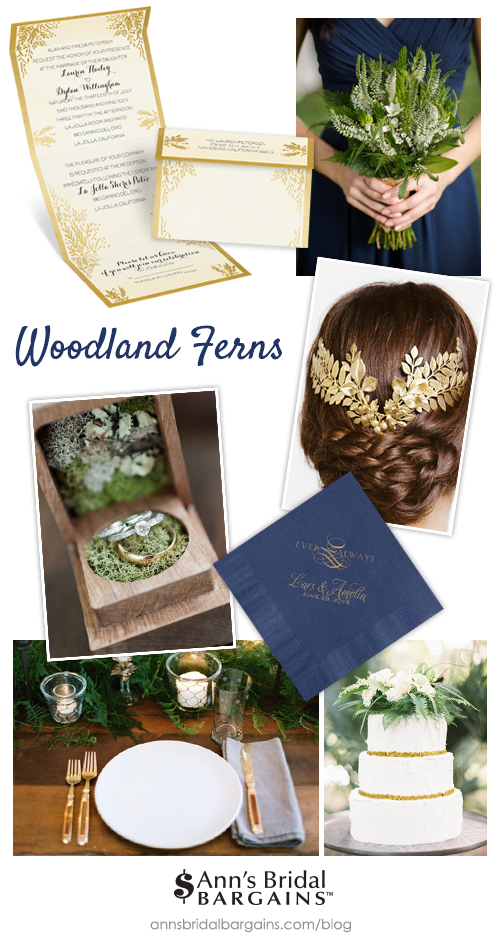 The Golden Touch
We started this woodland ferns wedding look with the Ferns of Gold Seal and Send Wedding Invitation. Here you get the best of two wedding trends: eye-catching gold color with romantic fern motif. We continued that golden touch throughout the wedding look, including the gorgeous fern headpiece shown. Notice all of the subtle gold touches as well, like the gold glitter bands on the wedding cake, the gold-tone silverware and the gold foil personalization on navy wedding napkins.
Green with Envy
Just admit it, we all want a wedding that makes others just a teensy bit jealous, right? Decorating your wedding with lush ferns in rich green hues will do the trick. It creates a romantic yet naturally beautiful atmosphere that's both calming and refreshing. Ferns easily lend a rich, natural look to anything around them. Feature them in everything from your wedding bouquet to the wedding cake!
Homegrown
Consider growing your own ferns to use at your wedding in an effort to save money. As far as expense goes, ferns land somewhere in the middle of the floral pack but there are many varieties that can be easily grown at home. Check out this article from Better Homes and Gardens, 9 Top Ferns to Grow as House Plants to get started.
Credits: Bouquet and Ring Box: Deer Pearl Flowers, Headpiece: Paper and Lace, Table Setting:  Leo Patrone via Once Wed, Cake: Taylor Lord Photography via hochzeits guide