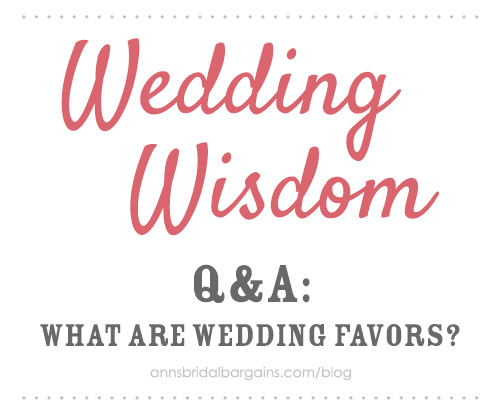 The custom of giving wedding favors to guests has been a wedding tradition across cultures for centuries, and today they are more popular than ever! However, if you're planning a wedding with a tight budget, you're probably wondering "what are wedding favors, and are they really that important?"
Wedding favors are given by the couple to their guests to show gratitude and appreciation for sharing in this special day. Wedding favors are typically small gifts, and they're usually the same for every guest. Sweet treats are probably the most common wedding favor given today, whether it's truffles cutely packaged in colorful favor boxes or a more traditional choice like Jordan almonds beautifully wrapped in white organza. Couples may also choose to give hobby-inspired favors like personalized golf balls or cookie cutters.
Wedding favors are popular but they are not required. However, guests do enjoy getting a little something when attending a wedding. Ann's Bridal Bargains has a nice selection of budget-friendly wedding favors you can browse. Otherwise, get creative! Perhaps your favor is freshly popped popcorn before dinner begins or personalized butter mints at each table. Wedding favors do not have to be extravagant or expensive, just heartfelt.