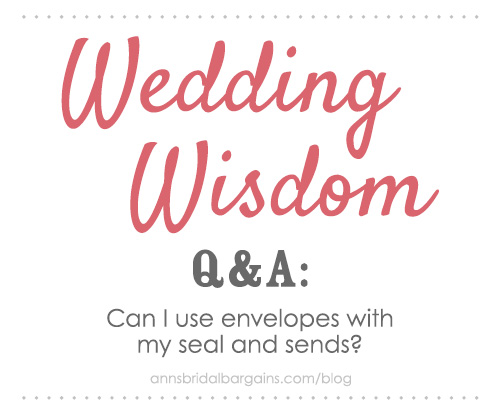 You certainly can use envelopes with your seal and send wedding invitations. Just because these invitations fold up into self-mailing invites doesn't mean you have to send them that way. We have had couples choose to send these invitations in envelopes for a couple of reasons:
They want a more traditional look and feel.
They're worried about the invitation being damaged in the mail.
We send three clear seals for every seal and send, which are used to secure the invitation closed for smooth processing in the mail. Unfortunately, some seal and sends still arrive damaged. If you want to ensure your invitations are pristine when they get to the recipient, envelopes are a great way to go.
If you choose to go this route, you will need a 6½" x 4¾" envelope. You may have trouble finding this size of envelope at an office supply store or hobby store. We don't offer these envelopes on the site but you can call customer service at 1-800-821-7011 to order them. You can also head over to Invitations by Dawn to browse their envelopes, which are available in a variety of different sizes including 6½" x 4¾".