Have you been bitten by the Boho bug? Are you envisioning lush garden blooms at your wedding with soft, romantic colors and naturally beautiful décor? Then the answer is yes. You've got Boho fever and so do we! We love the look but we've decided to replace flowers with feathers for this unique and romantic style story.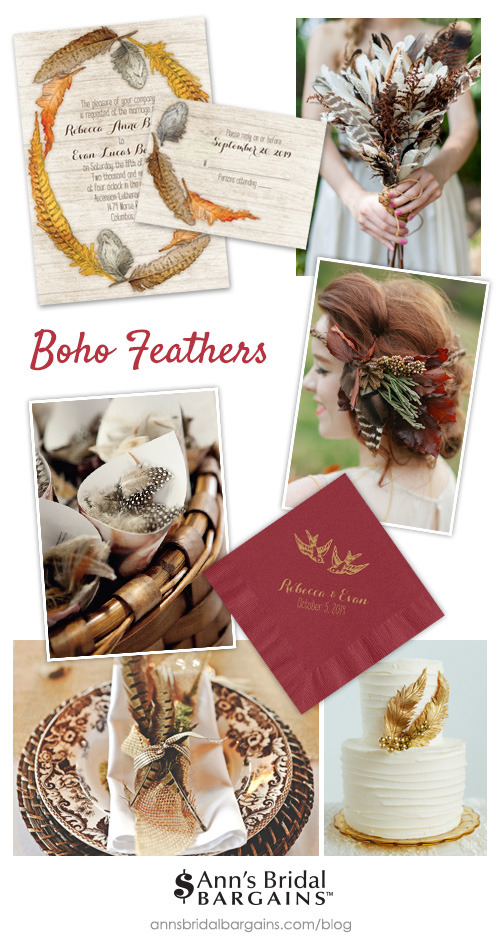 Pleasantly Pheasant
Most of the feathers you see in this look are pheasant feathers. We love the idea of using pheasant feathers for a Boho wedding because they are pretty, plentiful and easy to work with. Boho brides are often drawn to the romantic woodland look, and pheasant feathers are a great way to achieve it. You may also see other wild bird feathers mixed in adding a bit of variety to certain elements like the feather bouquet shown at the top or the cones with feathers for throwing at the bride and groom.
Ruffle Some Feathers
A Boho feathers wedding may ruffle a few feathers, especially for family and friends who are bit more traditional. They may not understand your love for this style but we bet they'll get on board after receiving the right wedding invitations like this Woodland Feathers All in One Wedding Invitation. Not only do you get a beautiful feather design, you also get the convenience and affordability of our all in one invitations. Continue your theme throughout the wedding with fun touches like custom wedding napkins.
Feathers in her hair…
The bride's hairpiece is often the heart and soul of the bride's Boho look. We love the idea of weaving feathers straight into the hair or into the headpiece she'll be wearing, creating a soft and romantic accent that complements the gown perfectly. Tuck a few feathers into the bouquet or have an all-feathers bouquet to complete the look.
Photo Credit: Feather Bouquet: Deer Pearl Flowers, Cones with Flowers: Wedding Bells, Feather Headpiece: Frenzel Studios via Green Wedding Shoes, Table Setting: Stacy Jacobsen via Green Wedding Shoes, Cake: Cojo Photo via Style me Pretty