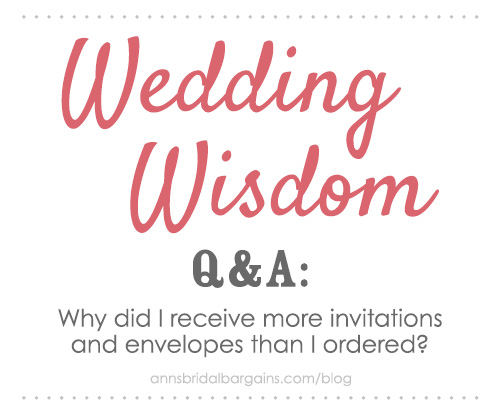 We always recommend that couples order more wedding invitations and envelopes than they need just in case they miss someone on the guest list or an invitation is damaged somehow.
We have chosen to build this step into our packaging process as well. When you receive your wedding invitation ensemble, which includes invites, envelopes, response cards, reception cards, etc., you'll find there are a few extras of each item. However, we don't necessarily send the same amount of extras per item. You might be left with more invitations than enclosures but the important part is you have enough of everything – even when mistakes happen!
When it comes time to assemble your wedding invitations, we recommend watching this video from our friends at Invitations by Dawn. They do a great job of showing couples how to unpack and assemble a typical wedding invitation ensemble.