A wedding in winter is simply magical, and planning all the beautiful details is an absolute pleasure. Here we've gathered some unique ideas for creating a winter wonderland theme for your wedding.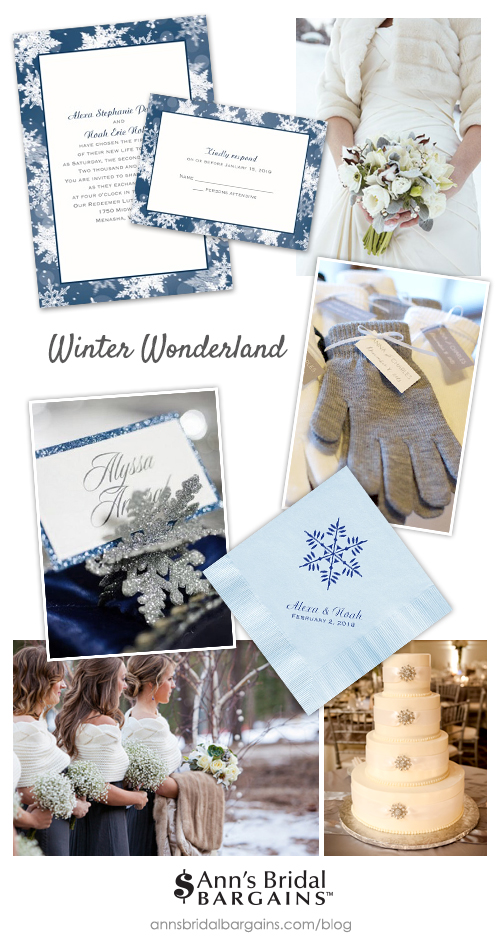 Let It Snow, Let It Snow, Let It Snow
The most wonderful aspect of winter is all that beautiful, fluffy snow and how it blankets the landscape in pure white. A winter wedding would not be complete without honoring the unique beauty of the snowflake. We chose the Winter's Wonders Wedding Invitation to introduce this wintry look. The snowflake border is perfect and it comes with free response postcards! We also threw in custom wedding napkins in icy blue with a snowflake design to add a little style and color to the reception.
Simply Heartwarming
Warm the hearts of all your guests with meaningful touches they'll never forget. Giving gloves as wedding favors is both thoughtful and adorable, especially when they're wrapped with ribbon and favor tags. Place cards placed on silver glitter snowflake ornaments will help guests find their seats and sparkling snowflake adornments allow the wedding to truly shine.
Bundle Up
The bride and bridesmaids will want to dress warm for the occasion but that doesn't mean they have to sacrifice style. Quite the contrary! Winter accessories are gorgeous and fun to wear. Find a simple fur jacket for the bride and luxurious shawls for the bridesmaids. Consider giving the bridesmaids warm fur boots to coordinate with their dresses. They'll love wearing them the day of the wedding and every winter after!
Photo Credit: Bride: Martha Stewart Weddings, Cake: Casey Durgin Photography via The Knot, Bridesmaids: Brett & Emily Photographers via Elizabeth Anne Designs, Placecard: Happy Wedd, Glove Favors: Live View Studios via Bridal Guide