A heavenly sight to say the least, rose quartz and gold is a magnificent color combination and one that is undeniably gorgeous. Here are a few of our favorite ideas for highlighting this pretty palette.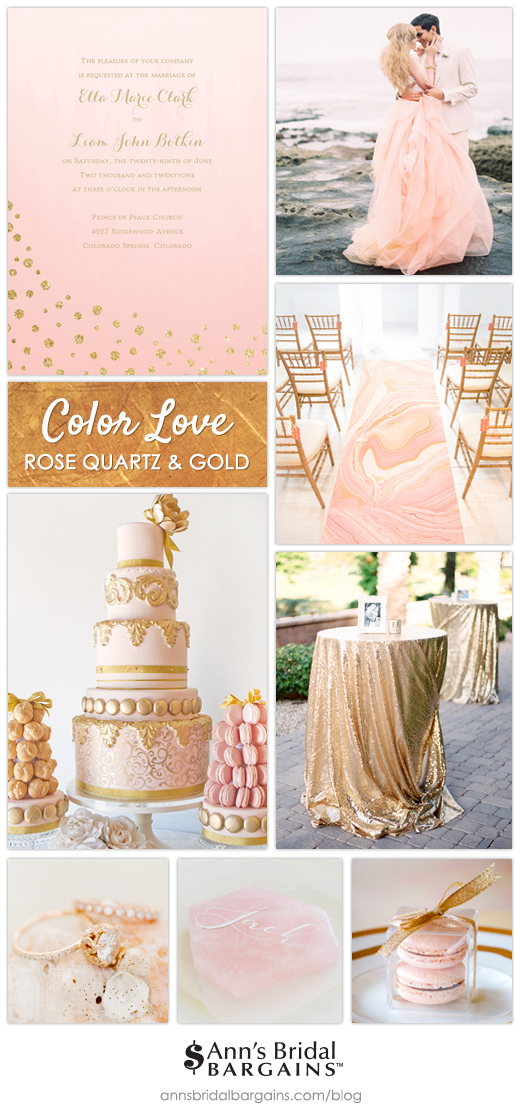 Go for the Gold
When it comes to wedding colors, gold might just take first place for being the most stunning. It doesn't matter how you choose to use it throughout your wedding ceremony and reception, it's going to get noticed. Give your wedding that golden glow by starting with the invitations. The Gold Dust Wedding Invitation with faux glitter polka dots also features our other award-winning hue, rose quartz. These two colors combine to form something out-of-this-world beautiful! Before the beauty of Gold Dust blinds you, be sure to check out our entire selection of gold wedding invitations.
Rock that Rose Color
Have you ever seen rose quartz up close? It's mesmerizing. The fact that this gemstone is called the love stone is no surprise but it's more than just a pretty stone to put in jewelry. Rose quartz is also used in healing practices and feng shui. Just imagine how gorgeous your wedding will be with this color playing a leading role in your decorations and attire. We can't take our eyes off of this bride in a rose quartz wedding gown. Oh, and the aisle runner? That beautiful marbled pattern becomes a luxurious path to the altar.
Create a Polished Look
Work with these colors to create a look that's absolutely perfect down to the smallest detail. Everything from gold ribbon around the bouquets to gold cake decorations will be dazzling especially when you let rose quartz paint the background of your wedding ceremony and reception. Rose is subtle enough to allow gold details to really pop yet soft enough to not overwhelm the venue. Get creative with these beauties and enjoy developing a look that's uniquely your own.
Photo Credit: Bride and Groom:  Ashley Kelemen via Knots villa, Aisle Runner: Morgan Blake of Three Pennies via Tulle & Chantilly, Cake: sueterazul, Tables: Rachel Solomon via Elizabeth Anne Designs, Macaroons: Weddningomania, Placecard: Tenth & Grace via Style Me Pretty, Ring: KT Merry Photography via Style Me Pretty