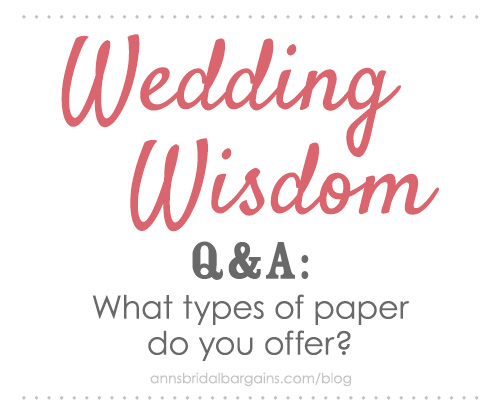 Ann's Bridal Bargains offers paper options on many of our wedding invitations so customers can choose the level of quality that fits their wedding budget.
Our Standard Matte paper is an excellent quality for an excellent price – that's why this paper is our standard for all invitations.
Our Heavy Matte paper has the luxurious look and feel of heavyweight paper for a crazy good price! Choose this paper when you really want to impress guests.
Our Elite Texture paper lends an ultra sophisticated look to any invitation design. The slightly textured finish adds dimension to your design and wording.
Our Elegant Shimmer paper makes your wedding invitation a real knock–out, and you won't find it for less anywhere else!
Our Magnet option is available on most save the dates. Save the date magnets are fun for you, convenient for guests and easy to create here at Ann's.
Order samples to see and feel the quality so you can be sure you've found the perfect wedding invitations for your beautiful day.