A versatile pair that's easy to work with in any wedding venue, grey and coral wedding colors are beautiful in the wide open outdoors like we've shown here or in more modern spaces like museums and art galleries. Whichever venue fits your wedding style, these colors will enhance it beautifully.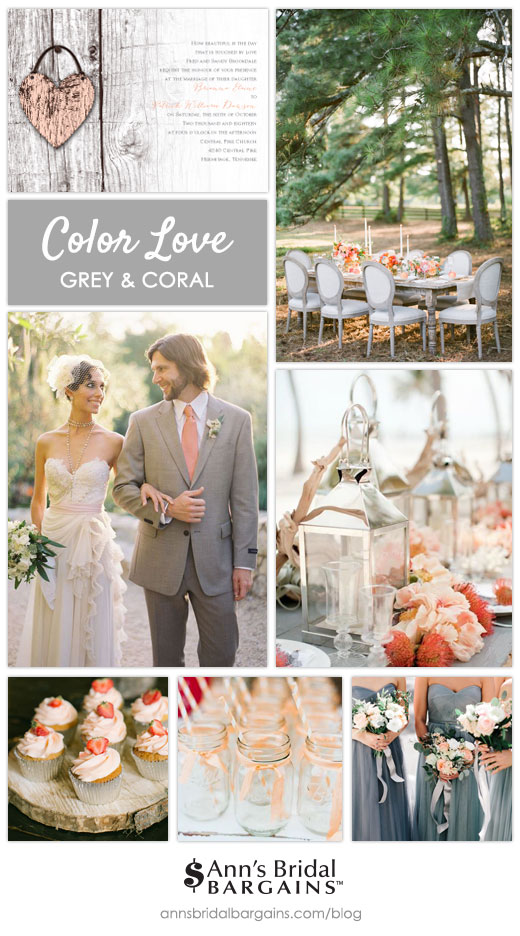 A Grey Area
We tend to think of grey as neutral because it works beautifully with every color of the rainbow but it can also be a standout color on its own. The groom and bridesmaids shown here are wearing grey with pops of coral for a sophisticated look that's both elegant and whimsical. We paired the Wood Heart Wedding Invitation with this look because of its rustic charm and heartwarming design. Shop our collection of pink wedding invitations for more coral design options.
A Love for Coral
Coral is one of the most stunning colors nature has bestowed on us, which is why it looks amazing in this woodsy setting. Where do we most often see coral in nature? Flowers! So many different varieties of flowers come in coral that it's a breeze to find blooms that fit your wedding color scheme, your style and your budget. Display them on the reception tables and in the bouquets for sure!
The Final Touch
We enjoyed throwing a little silver into this Color Love. The way it shines in the light and complements the grey and coral wedding colors is absolutely perfect for weddings. The silver cupcake liners and silver lanterns are wonderful examples of throwing in a sprinkle of glimmer to really take your décor to another level.
Photo Credits: Table: Justin DeMutiis Photography via Style Me Pretty, Lanterns: The Feisty House, Couple: The Merry Bride, Mason Jars: Wedding Day Bliss, Bridesmaid Dresses: Joel Bedford via Style Me Pretty, Cupcakes: Anna Roussos Photography via Style Me Pretty