A simply elegant look with the romantic glow of white lights, this wedding style is quaint, charming and easy to pull together without spending a lot of money! Start gathering white Christmas lights, tea lights and glass votives months before your wedding. Better yet, borrow white Christmas lights from friends and family or purchase them after the holidays on clearance.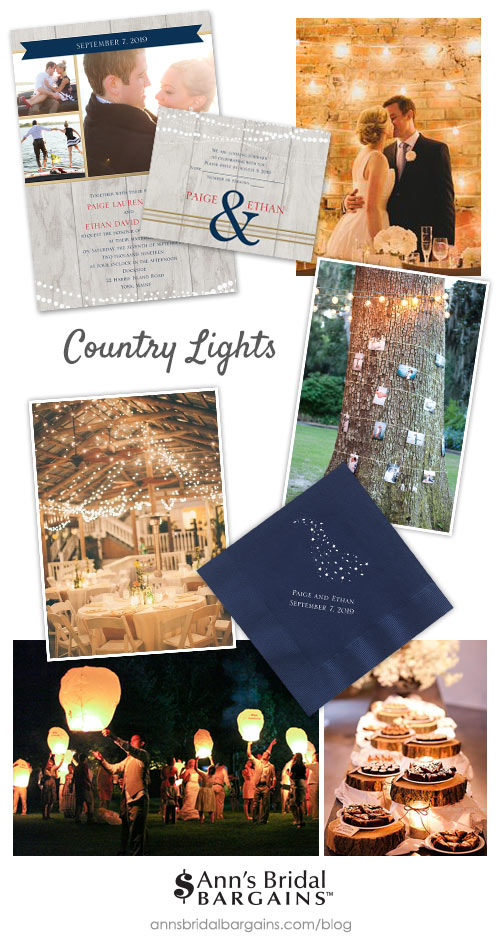 Simply Romantic
A classic country look is simple and beautiful. Throw in a little mood lighting and you've created a romantic wedding ambiance friends and family will absolutely fall in love with. We suggest keeping the wedding decorations simple and down to earth. Photos wrapped around an old tree and lights draped along a brick wall are great examples of minimal effort producing impressive results. The Country Lights All in One Invitation is a perfect fit for this down to earth celebration.
An Elemental Love
Love for country life goes hand in hand with an appreciation for natural beauty. The real wood cake stands shown here are a beautiful contribution from nature as is the tree trunk photo display. Barn wedding receptions are rustic and very pretty with the right decorations. Plus, an outdoor country wedding allows for things like Chinese sky lanterns, sparklers and even fireworks, which brings us to…
Light up the night!
There is nothing more charming than a warm country evening with a gentle breeze and a moonlit sky. Take this naturally gorgeous scene to the next level for your wedding with strings of lights and an array of candles. Your goal is to create an irresistible glow throughout your wedding reception that will draw your wedding guests like moths to a flame!
Photo Credits: Reception: Dylan & Sara Photography via Wedding Party, Couple: Shewanders Photography via Elegant Wedding Invites, Dessert Table: Colin Cowie Weddings, Tree with Photos and Lights: Devon Donnahoo Photography via Every Last Detail, Lanterns: Jo Photo via Love Wed Bliss