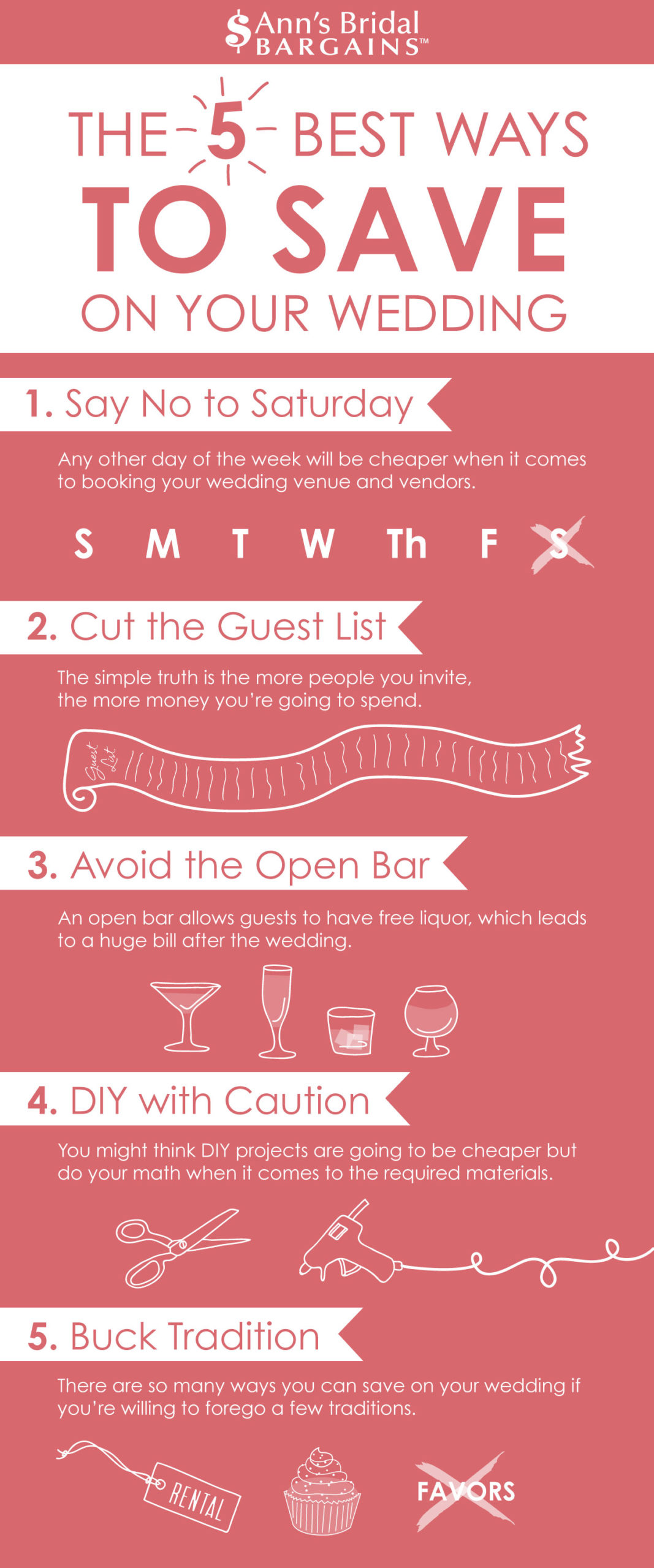 1. Say No to Saturday
Any other day of the week will be cheaper when it comes to booking your wedding venue and vendors. Saturday weddings are overrated anyway! You can have a romantic Friday evening wedding or a charming Sunday Brunch wedding for far less than you would spend on a Saturday. Plus, your whole mindset will be different when planning and you'll probably be able to stick to a more minimalist approach to the celebration. Want a party? Who said you can't have one hell of a shindig on a Friday night!
2. Cut the Guest List
This is the most important tip we can give you if you're looking to cut down on wedding costs. The simple truth is the more people you invite, the more money you're going to spend. Take a long hard look at your guest list and see if you can make some major cuts. It's tough but necessary. Instead of overextending your budget to accommodate everyone, cut the guest list and create a truly wonderful experience for those who are attending. You'll be glad you did.
3. Avoid the Open Bar
An open bar is a lavish expense that is no longer expected from the average couple. Most couples looking to save money on their reception while still providing alcohol will limit free beverages to beer, wine and soda (and maybe a signature cocktail). An open bar allows guests to have free liquor, which leads to a huge bill after the wedding and some crazy drunken fools the night of. If you have some loved ones who prefer liquor, purchase a bottle of their favorite and tell the bartender that person's drinks are on you for the evening. Better yet, put a photo of that person on the bottle so the bartender knows exactly whom you're talking about.
4. DIY with Caution
DIY wedding projects are inevitable. We certainly can't advise against them because we get just excited as the next person about DIY wedding decorations and wedding invitations. However, we do advise to proceed with caution. You might think DIY projects are going to be cheaper but do your math when it comes to the required materials. Read Goodbye DIY: Why sometimes professional printing is the cheaper option by Invitations by Dawn and you'll have a better understanding of how costs can add up fast.
5. Buck Tradition
There are so many ways you can save on your wedding if you're willing to forego a few traditions. #1 is a great example of this. Some other examples include borrowing a wedding dress, skipping wedding favors (or choosing simple wedding favors) and keeping dessert simple (tiered wedding cakes are expensive and just not necessary). Make a list of wedding must-haves and see what you're willing to let go or revise to stay on budget.