If this Color Love doesn't remind you of that perky tune, Good Day Sunshine by The Beatles, you need to expand your iTunes playlist! Sunshine yellow pairs up with kelly green for a summertime combo that will make you crave a picnic with your sweetheart.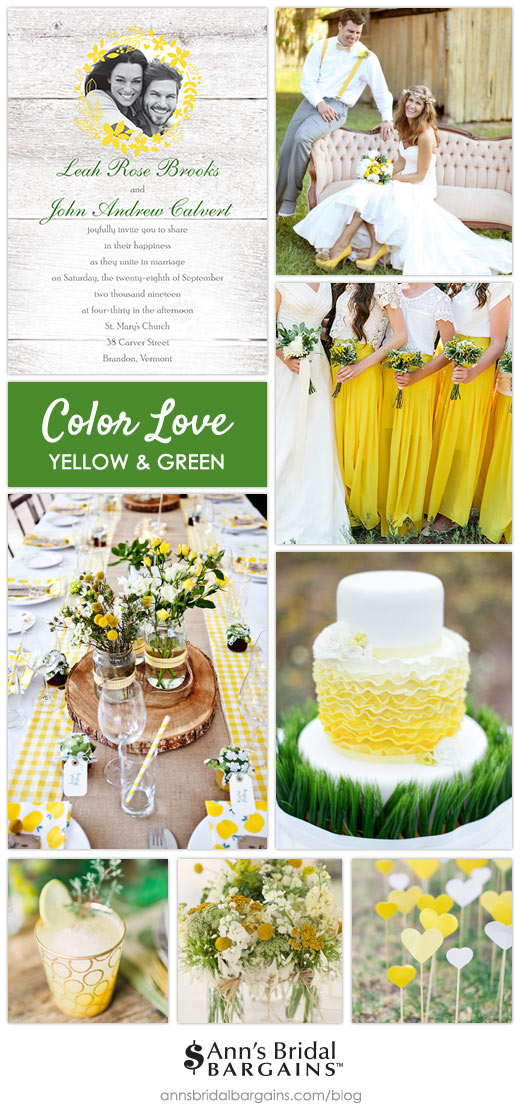 The color of happy!
Yellow is an undeniably joyful color. It's nearly impossible to look at a bouquet of yellow flowers or don a yellow dress and not feel a lift in your mood. Yellow at a wedding celebration only seems natural being it's a time of joy and celebration. The white and yellow bridesmaid dresses shown here are perfect for a spring or summer wedding. The yellow heart lawn decorations are adorable, and the bride and groom with their matching yellow suspenders and wedding shoes couldn't be more fun!
Save some green.
Pairing yellow with green is such a great idea because it looks beautiful together AND you can save a lot of money. Have your wedding outdoors at your favorite park or the family farm. The trees and grass will become the only backdrop you need. Gathering affordable decorations will be easy when you draw from nature. Wood slabs as table centerpieces are a great example. Wildflowers in mason jars are very affordable and they will look amazing.
The Perfect Pair
You might have cringed a little at the thought of yellow and green but now you see it's a match made in nature! They're perfect together, especially for an outdoor wedding in the spring and summer. Let both colors play equal roles in your wedding decorations and you will be mighty pleased with the end result. The Country Floral All In One Wedding Invitation shown above is an excellent representation of how these two colors complement each other perfectly. Let them brighten your wedding day!
Photo Credits: Table Settings: Chris Cooney via BRIT + CO, Couple: Wings of Glory Photography via Style Me Pretty, Hearts in Grass: Laurie Wilson Of Gather West Photography via Mod Wedding, Cake: Troy Grover via Style Me Pretty, Bridesmaids: Callie Hobbs Photography via Wedding Party App, Drinks: RUSTIC WHITE via Style Me Pretty, Flowers: Jamie Clayton Photography via one wed