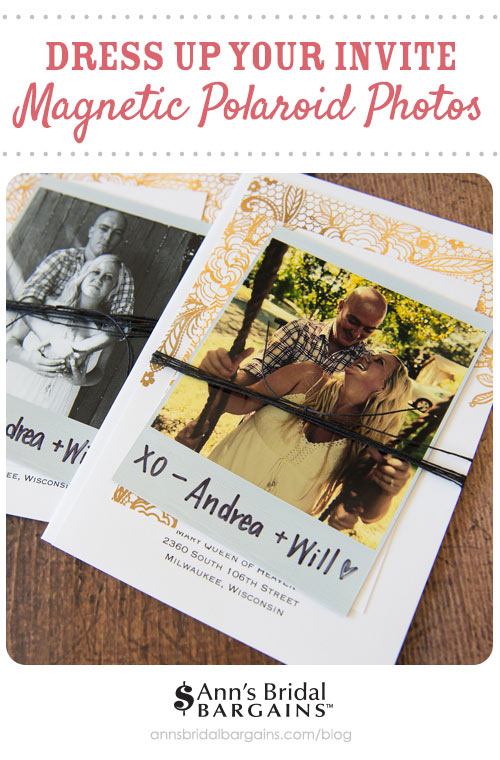 Photos are a great way to add a personal touch to your wedding invitations. We love the photo invites couples have been sending but why not DIY your own photo wedding invitations with a bonus keepsake for your guests? We wanted to add the fun retro look of Polaroid photos to these Gold Lace Wedding Invitations. However, we don't have a polaroid camera just lying around. Lucky for us, we found this tutorial: DIY How to Fake Polaroids. This tutorial uses Photo Shop but feel free to experiment with other ways of creating Polaroid-inspired photos.

Step 1: Gather Your Materials
• Polaroid-Inspired Photos
• Wedding Invitation Parts and Pieces
• Magnetic Stock – we bought these magnetic sheets on Amazon.
• Metal Ruler – or other straight edge for cutting.
• X-ACTO® Knife and Cutting Matte
• Permanent Marker
• Twine or Ribbon
Step 2: Trim the Photos
Trim the photos down to the standard Polaroid size using your knife, cutting matte and metal ruler to guide the knife. Feel free to leave a little more white space on the bottom and/or top depending on how much you want to write or what looks best with your wedding invitations.
Step 3: Prepare the Magnetic Stock
Once all of your photos are trimmed and ready, determine how many will fit on one sheet of magnetic stock. Then remove the paper backing from one sheet only to avoid accidents with sheets not being used.
Step 4: Apply the Photos
Place the photos carefully on the magnetic stock and gently smooth the photo from one edge to the other as you press down firmly against the stock's adhesive. Don't worry about the photos being evenly spaced or crooked. Just make sure they don't overlap.
Step 5: Cut to Size
Trim the magnetic stock along the edges of the photos using your knife, cutting board and metal ruler just like in Step 2.
Step 6: Write a Message
Use your permanent marker to write whatever message you like at the bottom of each photo. Here are some ideas: XOXO, your names, the wedding date, So excited to see you! or a favorite quotation.
Step 7: Assemble
Place your wedding invitation (wording side up) on the table. Now place the reception card on top, then the response card and then the magnetic Polaroid photo. Now tie everything together with twine, string or ribbon. We used brown hemp twine found on Amazon.
You've just created some pretty adorable DIY photo wedding invitations! Get ready to get some major compliments from friends and family, and remember to keep one as a keepsake for your wedding album.