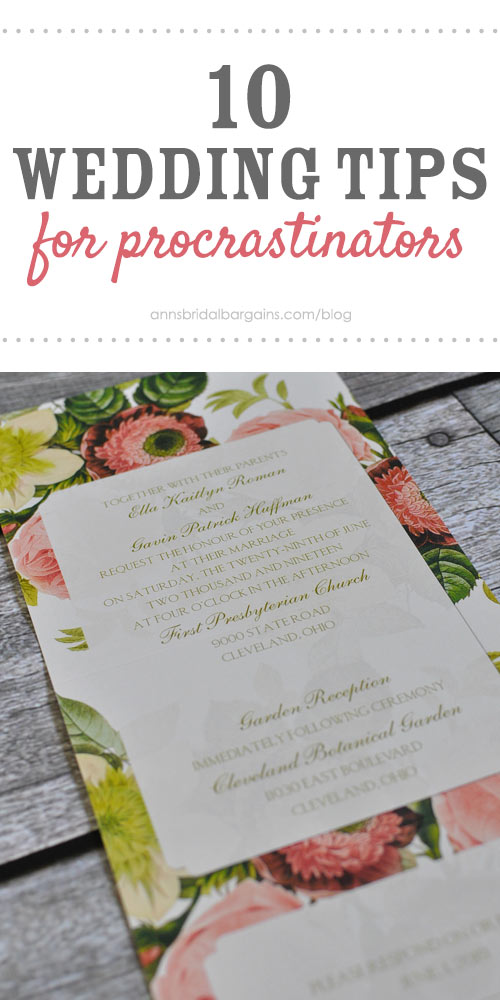 1. Chalkboard Anything
Chalkboard signs, place mats, seating charts, escort cards, etc. We highly recommend using chalkboard items because it's something you can write up last-minute. Although it looks a little messy and slightly thrown together, that's all part of its charm. Just make sure you or the person you recruit has good handwriting.
2. Seal & Send™ Wedding Invitations
Seal & Sends Wedding Invitations make putting together a beautifully coordinated invitation ensemble a breeze! Everything you need comes in one invitation piece and it's super easy to assemble. Just fold, seal and send.
3. Assembly Parties
If you purchase separate enclosures with your invitations (a typical ensemble includes the invite, a response card and reception card), plan an assembly party with close friends and/or family members. Assembling your wedding invitations will be way more fun and the whole process will go much faster, especially for pocket wedding invitations or invites with accents such as ribbon.
4. Skip the Seating Chart
Seating charts can get pretty complicated, and unfortunately you have to wait for all your wedding guests to respond in order to complete it. Rather than taking the time to put together assigned seating, let guests choose for themselves. Display a sign (chalkboard perhaps?) at your reception, which says something cute like, "Sit Wherever Your [heart icon] Desires."
5. Online RSVPs
Asking guests to RSVP online not only saves you time, it saves you money because you don't have to purchase response cards with your wedding invitations. Check out our collection of Wedding Invitations with Online Reply for some incredibly stylish and affordable options you'll love.
6. Shop at Department Stores
Department stores like Nordstrom and Macy's offer gorgeous dresses perfect for your bridesmaids or even your wedding gown. You don't have to make an appointment or order your dresses months in advance. Just walk in, shop to your heart's content and walk out with a dress. (TIP: We especially like Dress Barn for finding bridesmaid dresses.)
7. Envelope Moistener
The envelope moistener is a real timesaver and it's a huge relief for whoever is sealing the envelopes. Be sure to have one of these at your assembly party!
8. Skip the Program
Create one large sign displaying your Order of Ceremony so guests feel informed without you having to get all the details together two weeks in advance to have wedding programs printed.
9. Last-Minute Card Box
Grab an old, antique-style suitcase from your parents, grandparents or local thrift store and display it at the reception with a sign that says "CARDS." All you have to do is close it up and carry it off at the end of the night. You'll probably be able to tuck some small gifts in there as well for easy transporting.
10. Wedding Favors
Apples, oranges and pears make GREAT last-minute wedding favors. Depending on the time of year, you can usually get one of these options for a good price. Find some cute stickers at your local craft store and apply one to each piece of fruit. Put a piece of fruit on each guest's plate or display them together in a glass bowl or vase. You could even get creative and create a caramel apple bar for guests to enjoy before or after the reception.