A gorgeous look for any season, watercolors flowers are simply made for an occasion as romantic as your wedding.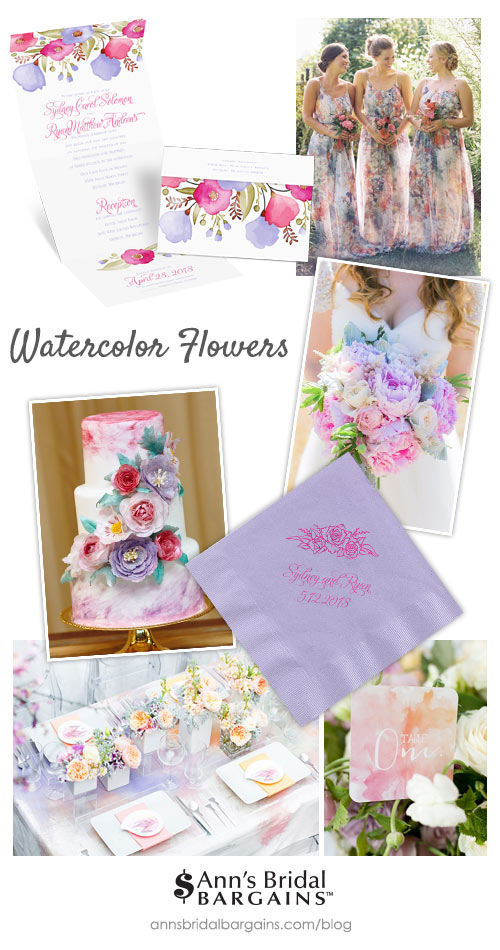 The Perfect Invitation
Watercolor artwork is absolutely gorgeous on wedding invitations. The vibrant colors and ethereal motifs are romantic and eye-catching. It simply couldn't be better suited for introducing a beautiful wedding celebration. You'll find watercolor designs on many different types of invitations but the Seal & Sends™ are some of our favorites. The Pretty Posies Wedding Invitation is the perfect example of how well watercolor design complements an invitation.
All the pretty flowers!
Flowers and watercolor go together like wedding gowns and lace! The combo is stunning and it's a wonderful theme for your wedding. Decorate with as many lush flowers as you can throughout your ceremony and reception. You might even gain a little inspiration from the invitation as to which flowers you choose and what colors you highlight. We adore the light and whimsical table centerpieces shown here, which align beautifully with the full and fabulous bouquets and cake decoration. And those bridesmaid dresses? So, so pretty.
A whimsical wedding…
Watercolor weddings are naturally whimsical — the colors, the ethereal designs, the artistic feel. All you need are a few details to bring the look back to earth. We love the table number cards shown here helping guests find their seats. The custom wedding napkins with foil floral design and your personalization add a touch of personalization, which is always a great idea!
Photo Credits: Cake: WojoImage Photography via Burnetts Boards, Bridesmaids: Ali Harper via Southern Weddings, Table Number: Anna Munro via Mod Wedding, Table Setting: via Brit + Co. Bridal Bouquet: J Wiley Photography via Wedding Chicks