Striking on their own, navy and gold combine to create a rich and luxurious look your guests are sure to remember long after the wedding! Of course, we're here to help you make this gorgeous look an affordable one for your special day.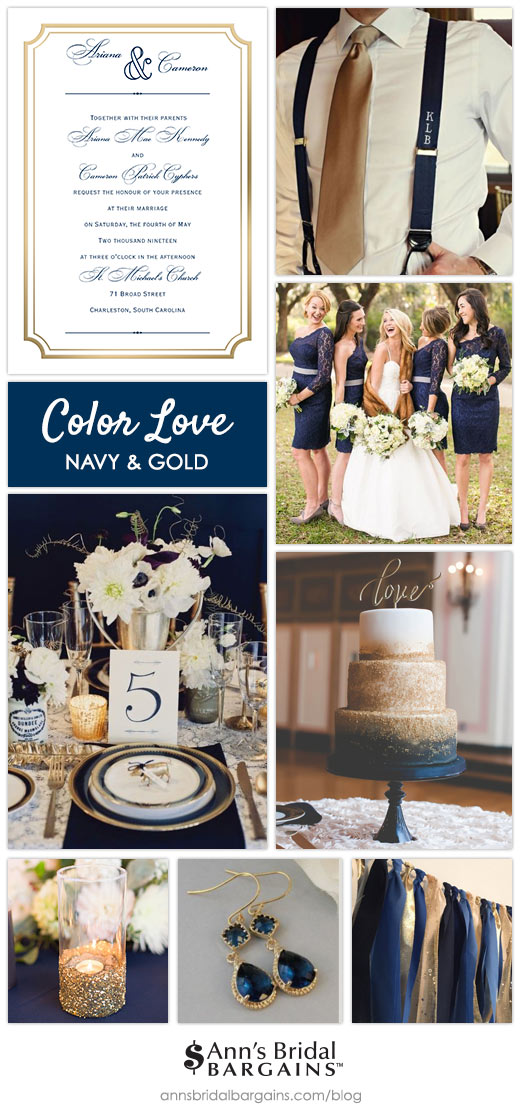 Join the Gold Rush
Gold is everywhere right now! Lucky for you because that means you'll find lots of gold wedding decorations and accents at affordable prices. The really great thing about gold is that you can use your bargain shopping skills to find beautiful gold accents for dirt-cheap at local thrift stores and consignment shops. You can easily find something just as beautiful if not fairly similar to the glittering gold candle shown here. Not to mention all the trinkets and goodies you'll find to complement a beautiful table setting like the one shown above.
Embrace the Blues
Navy is a stately color that gets noticed. It's especially stunning when incorporated into wedding attire like the show-stopping lace bridesmaid dresses shown here and the groom's navy suspenders (with gold tie). Be sure to use navy on your reception tables and as a part of your wedding decorations. The navy and gold fringe garland shown above is a fantastic DIY project you can easily throw together for your wedding without spending a ton of money. The garland shown is available on Etsy but if you'd like to learn how to make your own, check out the tutorial at beaucoup.com.
Strike a Balance
Since navy is such a powerful color, you don't have to worry as much about using too much gold (hey – we all know how easy it is to go a little crazy with shiny things). All you have to do is strike a nice balance. We recommend sticking to a lighter shade of gold shimmer rather than darker shades like yellow gold. And remember that the contrast between navy and gold is part of this color combination's incredible beauty, so highlight that contrast wherever possible like the wedding cake shown here or the Golden Frame Invitation with navy lettering. Be sure to take a look at our entire collection of gold wedding invitations while you're shopping.
Photo Credits: Table Setting: via Happy Wed, Cake: E SCHMIDT PHOTOGRAPHY via The Knot, Candle: Amy & Jordan Photography via Wedding Chicks, Groom: via Happy Wed, Bride/Bridesmaids:Courtney Dox Photography via Southern Weddings, Fabric Ties: Etsy, Earrings: Etsy via One to Wed