Are you having an outdoor wedding ceremony during the summer or early fall? Are you nervous about the weather being hot or muggy? Do your guests a favor and hand out wedding favor fans at the ceremony. This very simple item will make a world of difference!
Here are some tutorials about how to make DIY wedding fans from a few of our favorite wedding resources. We've chosen three different styles for you to check out and we've pointed out where to get ready-to-purchase favor fans and program fans if you're looking for the super simple route — no judgment here!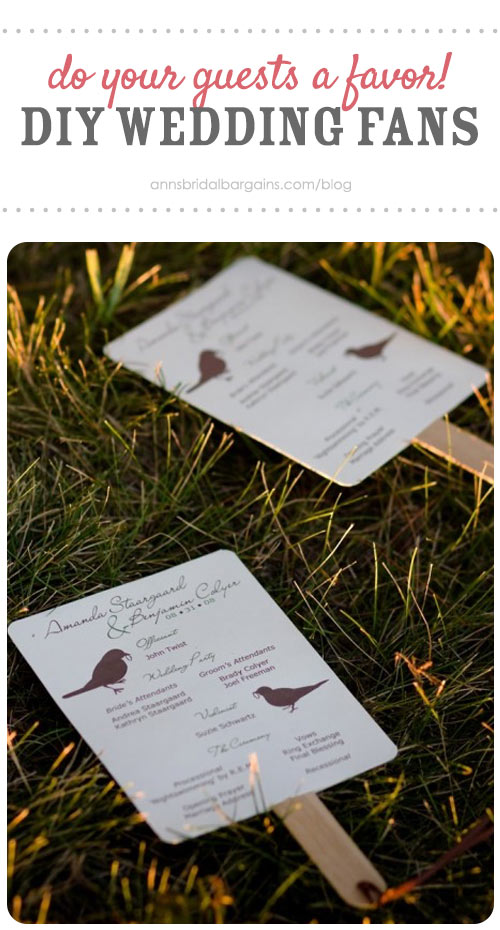 Wedding Program Paddle Fans from Sweet Violet Bride
If you want a dual-purpose fan for your wedding guests then this program fan tutorial from Sweet Violet Bride is perfect for you. Learn how to turn your ceremony program into a Wedding Program Fan your guests can use to keep cool and keep informed. Sweet Violet Bride even gives you a free printable to work with.
DIY Fabric Wedding Fans from Silver in the City
Fabric wedding fans may not be quick and easy but they are super stylish. This fabric fan tutorial teaches you how to create handheld fans out of whatever fabric you can get your hands on (and a few other materials). You will need to know how to sew or recruit someone to help. WARNING: they're almost too cute to give away!
Puzzle Program Fans from Intimate Weddings
Intimate Weddings has put together a helpful puzzle program fan tutorial, so you can create a super cute wedding program fan with fun puzzles on the back! This is a genius idea and one we highly recommend simply because you'll get rave reviews from your guests.
The Easiest Option of All
The easiest way to make sure you have these practical and adorable wedding fans at your wedding without the hassle of DIY is to order them from a professional stationery printer. You can find a few very affordable program fans in our collection of wedding programs. Also, our friends at Invitations by Dawn offer a great selection of stylish options and they allow you to add a photo to the back of their favor fans and program fans — another fun way to show off one of your favorite engagement photos!