A destination wedding is one of the most thrilling celebrations you'll ever take part in — make sure every detail is perfect! Here are a few ideas thrown together to create a tropical wedding look you'll love.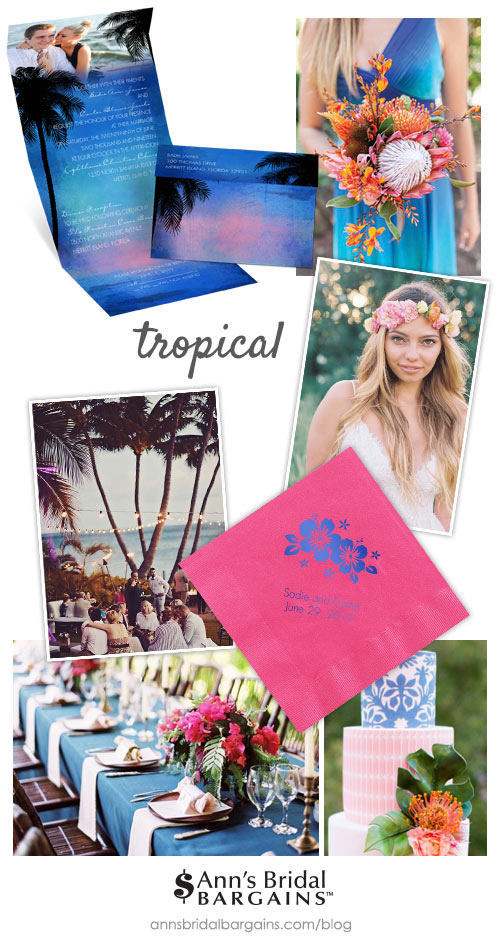 Sunsets on the Beach
Sunset pink and deep ocean blue come together beautifully in this tropical wedding look. The Tropical Paradise Seal and Send Invitation is an undeniably gorgeous design for such a special occasion. We love how the bridesmaid dress ties right into this invitation's eye-catching colors. Just imagine how romantic your destination wedding will look and feel with sunset beach theme. Shop our entire collection of destination wedding invitations to find just the right design for your destination style (and your budget!).
Oh, the flowers!
A bouquet of tropical flowers is always stunning. However, if you want to decorate with flowers, you may not want to shell out that much money. You can get more affordable flowers in tropical colors. The color of the flowers makes more of a statement than the type of flower you use. Also consider other cheaper ways to use flowers in your décor. Custom wedding napkins with a tropical floral design add the perfect pop of color and personalization to your reception.
Embrace the beach…
What we're really saying here is let the beach be your wedding decoration. Let the sand and the ocean and the palm trees create an ambiance you'll never achieve anywhere else. Use the natural beauty around you to make guests feel welcome and relaxed. The more you can rely on your surroundings to create a beautiful setting, the more money you'll save. Quick Tip: Outdoor beach weddings are so much fun but always, always have a backup location in case of bad weather.
Photo Credits: Reception: Tamiz Photography via Wedding Chicks, Reception Table: via Happy Wedd, Wedding Cake: Acqua Photo via Style Me Pretty, Bridesmaid Dress: She Wanders via The Knot, Bride: Wendy Laurel via Style Me Pretty