A bright and mesmerizing wedding color combination, yellow and aqua will turn your venue into a whole new world of cheerful details and serene beauty. Here's our own take on what a yellow and aqua wedding could look like.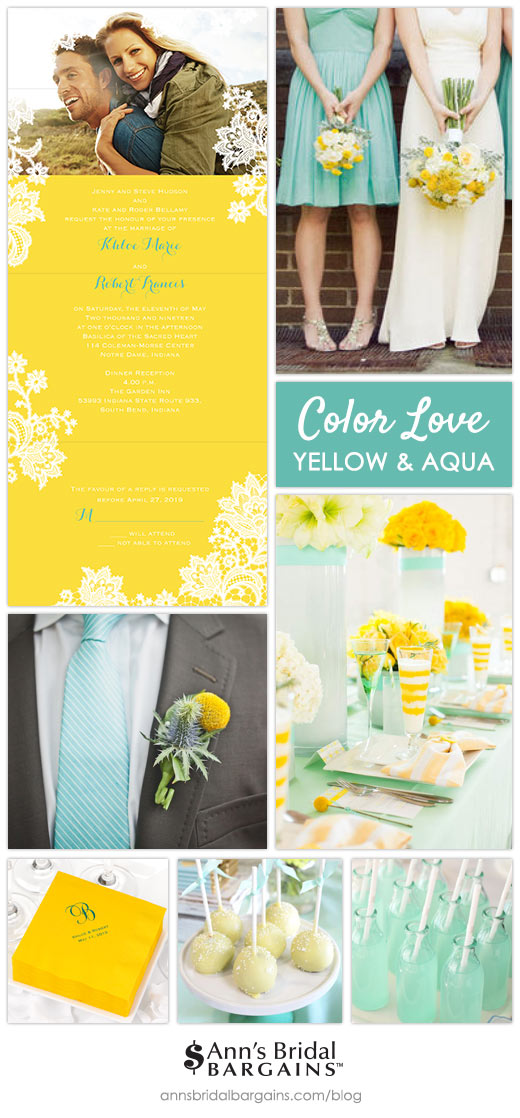 Here comes the sun…
Anytime sunshine yellow is used as a primary wedding color, you can expect a unique wedding celebration filled with fun details. We adore the bright yellow flowers used in the bouquets and the table centerpieces. The custom wedding napkins in yellow are a great way to add brilliant color for super cheap. The Lacy Layer Seal and Send Invitation with bright yellow background is a beautiful way to introduce this fun and vibrant wedding. Want something a little more subtle? Check out our collection of yellow wedding invitations for more design choices.
Cool blue and totally you.
Aqua will always remind us of tropical waters and clear blue skies, which immediately calms the senses and creates an ambiance of rest and relaxation. Aqua bridesmaid dresses and ties for the groomsmen look stunning. Aqua linens on the reception tables create the perfect backdrop for your choice of decorations. It's a great complementary color because it tones down the space and the sheer energy of bright yellow.
Embrace the beauty.
The best thing you can do with a color combination as vibrant as aqua and yellow is embrace it! Take this color combination to the next level and feature them in your drinks and food. The clear glass bottles with crisp cool beverage look amazing when displayed at the reception. The yellow and white striped dinner napkins shown here are an incredibly fun detail sure to leave a lasting impression on guests.
Photo Credits: Groom: Sweet Little Photographs via Bridal Musings, Table Setting: photograph by matt wittmeyer, styling by bella & co, Bride and Bridesmaids: Jenna Davis of Bradbury Photography via Style Me Pretty, Cake Pops: Made by Sweet Bloom Cakes and styled by Vesna of One Lovely Day, Beverages: by hello naomi