How much fun is this color combo! We simply can't get over the energy fuchsia brings to a wedding when paired with the richness and depth of navy. The contrast is brilliant and the first impression is unbeatable!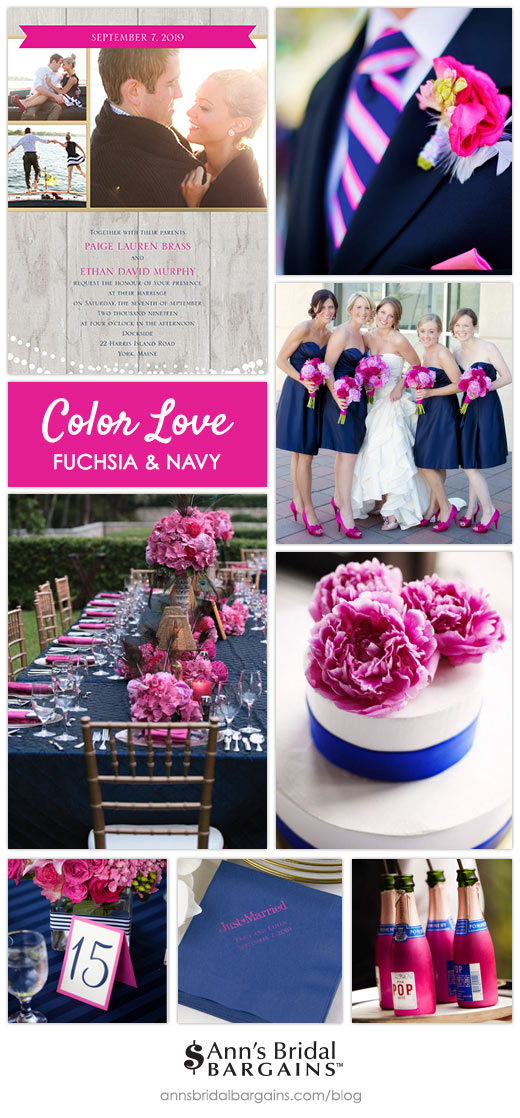 Be Brave
Embrace the beauty of this color combination. If you're hesitating about these hues, then maybe they're not right for you. The couple who chooses navy and fuchsia for their wedding needs to own it and love it! Of course, there are always ways to tone a color down. That's why navy is a fabulous base for fuchsia. It allows the pink to pop but it's also a subtle way to dress up any aspect of your venue. The table setting is a great example. The navy tablecloth blends so beautifully into the surroundings, allowing the fuchsia dinner napkins and flowers to take center stage.
Be Bold
Surprise your wedding guests with creative uses for the color fuchsia. We are gushing over the pink champagne bottles and the groom's striped tie. Let your bridesmaids in on the fun by choosing fuchsia flower bouquets and if you're really bold, fuchsia heels. The ladies in your wedding party are going to feel absolutely stunning! Introduce your wedding colors right away on the wedding invitations. We've chosen the Country Lights invitation for its rustic appeal, multiple photos and bold banner of color. Even better? It's only $131.39 for 100 invitations!
Be Brilliant
Be smart about how you use these wedding colors. Fuchsia is beautiful but it can easily overpower your venue. Play to the strengths of your surroundings and use your wedding colors to enhance the ambiance. Set the scene with plenty of navy then focus on creating table centerpieces that look pretty but not gaudy. Just a few flowers on your wedding cake is plenty of color and remember to add some personalized touches like the custom cocktail napkins shown here.
Photo Credits: Anne Marie Williams via Style Me Pretty, Brides/Bridesmaids: Jaclyn Marie Photography via The Knot, Cake: Alexandra Meseke Photography via Style me Pretty, Groom: via amor•ology, Drinks: Weddings by the Breakers via Wedding Bells, Table Numbers: Liz and Ryan via Bayside Bride