Just imagine celebrating your love with a magical evening of romance beneath the beauty of an evening sky. We absolutely adore this wedding theme! Here are a few inspirational ideas to help you achieve this look for your own wedding.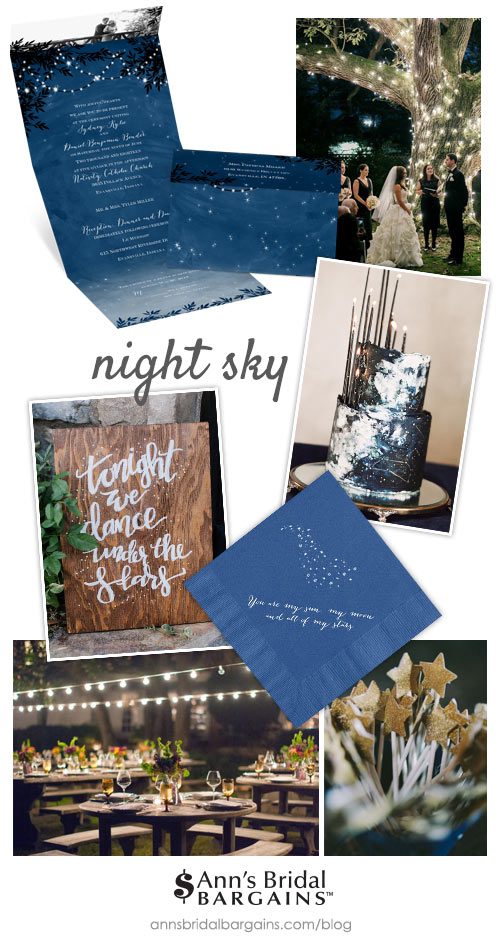 Beneath the Stars
An outdoor wedding isn't a requirement for this look but it sure does set the mood! Plus, outdoor spaces can be very affordable. Wherever you decide to host the wedding, make sure there is some kind of shelter in case of bad weather such as a large pavilion or a classic white tent. You won't need to do a whole lot for decorations but do include some magical details like you see here to really play up the theme. Start by introducing the wedding with the perfect invitation. We've got some great options but the Starry Night Seal and Send Invitation is one of our favorites. You get everything you need for one low price (just $156 for 100 invites). Not to mention it's gorgeous!
Twinkling Lights
The best thing for setting the mood for your night sky wedding theme whether you're indoors or outdoors is to hang plenty of white lights. String these twinkling beauties inside the tent, around large trees, along the edges of tables — wherever you feel will add some romantic lighting to the venue. Your goal is to create a beautiful glow that really adds to the ambiance of the event. Candlelight would also be a fabulous idea but be sure to choose candle holders that protect the flame from wind or use battery operated lights.
Magical Details
Guests should feel like a little bit of magic went into every detail of your wedding beneath the stars. Take the wooden sign shown here as an example. "Tonight we dance under the stars" sets the stage for a truly romantic evening. The blue cocktail napkins shown feature the phrase "you are my sun, my moon and all of my stars" (be still my beating heart!). The wedding cake is absolutely magnificent as if the galaxy could be concentrated into one delectable dessert. Just think of all the fun you could have with this wedding theme, and then make it happen.
Photo Credits: Bride & Groom: Emily Wren via Mod Wedding, Cake: Orange Photographie via Cottage Hill, Star Wands: Cassie Rosch via Style Me Pretty, Reception: Watson-Studios via Style Me Pretty, Wood Sign: Ever After on Etsy