The smooth look of pewter paired with the earthy nature of plum becomes a wedding color combination we simply can't resist!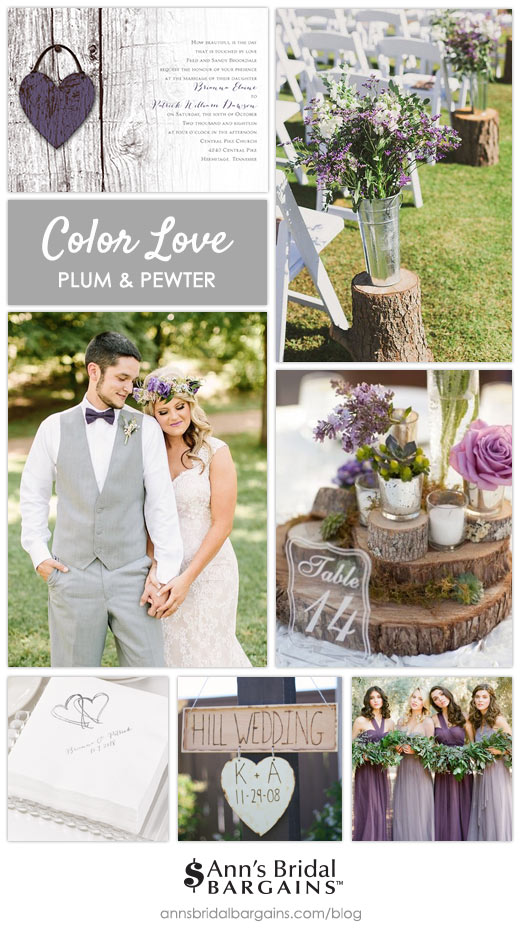 Pretty Pewter
Pewter is one of the simplest and prettiest colors you can use at your wedding celebration. Pewter is a fabulous backdrop for any color you pair it with but there is something about matching it with plum that is absolutely divine! The Wood Heart Wedding Invitation is the perfect example of this. The plum heart accent against a grey woodgrain background is striking in its simplicity. Personalize your wording to match the plum and pewter colors and guests are sure to remember your invitation long after the wedding. We highly recommend shopping our complete collection of Invitations with Free Response Postcards. You'll be surprised at the variety of designs available and how well the prices fit your stationery budget.
Pleasantly Plum
Plum is truly a pleasant color. The purple tone is beautiful but its earthy nature brings in a rustic element that's especially perfect for outdoor weddings. We love the plum bridesmaid dresses shown here and how beautifully they fit in with the plum roses and wildflowers displayed at the ceremony and on the reception tables. Oh, and who can resist a plum floral headpiece for the bride with matching bowtie for the groom? Adorable!
Perfect Pair
Pewter and plum are beautiful colors separately but put them together and they become one of the sweetest combinations we've ever seen. This color combo is so simple it seems almost too easy but if you're looking for wedding colors that are easy to work with and won't overpower your venues, pewter and plum are truly a perfect pair.
Photo Credits: Centerpiece: via Deer Pearl Flowers, Bridesmaid Dresses: via Invitations by Ajalon, Bride and Groom: Erin Wilson Photography via Wedding Chicks, Heart Sign: via EC's Love Invites, Ceremony Aisle: via Deer Pearl Flowers