Blue is a fantastic wedding color and it's really all you need! Instead of choosing two or more coordinating colors, we highly recommend working with just one and using the many shades of that color to create a gorgeous wedding look. There are lots of colors that work well for this but blue is our favorite! Check out the Color Love below and you'll see why.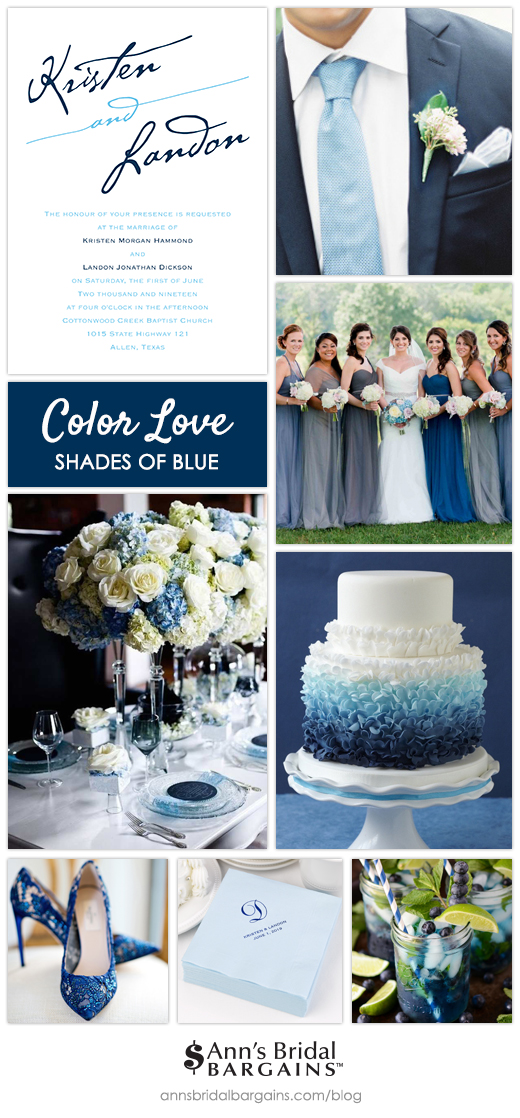 A Shady Mix
You can see how several shades of blue have been showcased throughout this Color Love. Wedding napkins in baby blue and the groom's tie in aqua draw your attention to the lighter side of this beautiful shade. Then you notice the cobalt blue hydrangeas and the royal blue wedding shoes (so pretty!). The wedding cake even features an ombre pattern with bright white at the top cascading down to navy blue at the bottom.
Grey Is A-Okay
Have you noticed a little grey in the mix? Grey and blue flow seamlessly together. In fact, you've probably noticed that many shades of grey feature a hint of blue. It's a wonderful neutral tone to pair with blue for your wedding. Just take a look at the array of bridesmaid dresses shown here in greys and blues — a fabulous example of these two colors working together.
Photo Credits: Bridesmaids: Kristen Smith Photography, Groom: via A Hue for Two, Reception Table: Luxodefesta via Mod Wedding, Wedding Cake: Jeremy at Harrell Photography via belle the magazine, Wedding Shoes: Kristen Weaver Photography via Inside Weddings, Mojito: The Novice Chef