Pretty, pretty, pretty! That about sums it up for this bridal shower look. Country charm with a few vintage details sprinkled in and you can bet the bride and her guests are going to be absolutely delighted.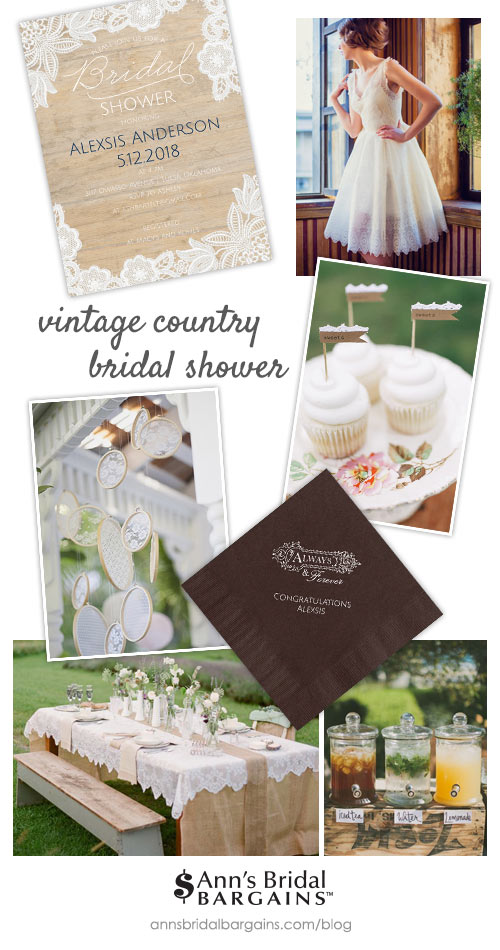 Lace Love
Nothing says vintage country quite like the delicate beauty of lace. We even introduced this entire look with lace wedding invitations. The white lace frame wrapped around your bridal shower details adds the perfect amount of country charm to the rustic burlap background. The Burlap and Lace Invitation is just one of many beautiful bridal shower invitations we offer for an incredible price.
Custom Creations
The hanging lace ornaments in embroidery hoops along with a table covered in burlap and white lace are absolutely beautiful ways to incorporate the vintage country and they are totally doable as DIY projects. Check out Fawn Over Baby to see how to make doily hoop art so you can create your own whimsical decorations. Even the cupcake picks could be handmade or you can buy some and handwrite little messages on them.
Sweet Surprises
Of course, gorgeous cupcakes are always a wonderful surprise but we also love when the hostess sets out a few beverage options. The clear glass drink dispensers shown here not only provide a tasty treat for guests but they look stunning in the venue. Custom napkins are another fun surprise. They're easy to customize and they add a nice pop of color. All in all, custom napkins are a cheap way to add a lot of style.
Photo Credits: Table Setting: Hunter Photographic via Event 29, Drinks: via Happy Wedd, Hanging Lace Décor: Sarah Bray Photography via Bridal Guide, Cupcake Picks: Ladawn Elaine via Etsy, Bride: Vintage Atelier via Love My Dress