Are you shopping for wedding invitations and can't decide if you want a photo on the invite? Sometimes couples hesitate to order photo wedding invitations because they're worried it won't be quite as elegant or sophisticated as they want. Our advice: go for the photo invite! Our brand director, Heidi, explains why…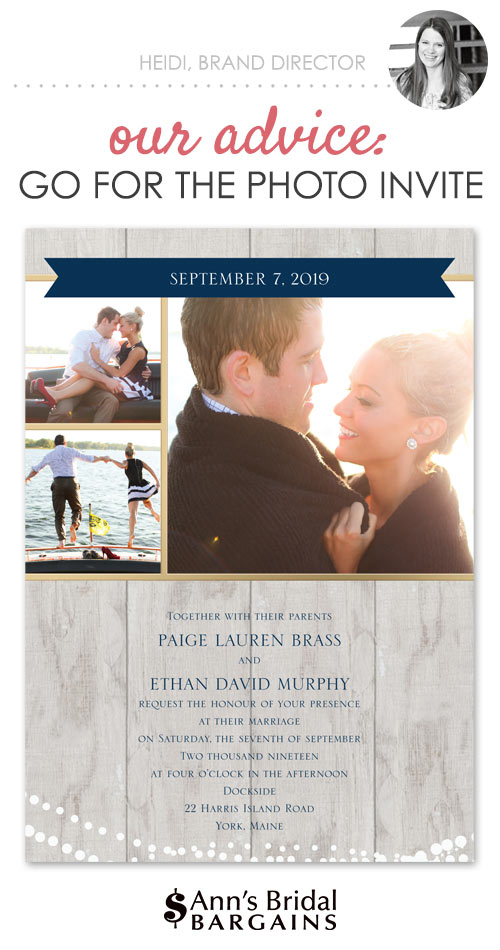 "Photographers have become incredibly skilled in their craft and there are so many photographers available to today's couples, which means anyone can have an amazing engagement shoot. The creativity and artistry behind these shots are just too awesome to pass up. Of course, if you spend the money and the time to get these fabulous photographs, you want to use them! Put them front and center. Feature one or more of your favorites on the wedding invitation where EVERYONE will see them.
Are you worried that photo wedding invitations are just too casual? Think again! There are so many designs available including truly beautiful options. For example, the Sweet and Simple Wedding Invitation is a sophisticated design with an elegant layout that incorporates the photo perfectly. The Filigree Leaves Wedding Invitation uses vintage flair and three panels to display your photo and wedding details. Not to mention both invites are very affordable!
Couples are lucky to have access to so many incredible photographers, and we should be thankful to the wonderful designers out there dedicating their craft to creating beautiful photo wedding invitations. Take your time searching and we're certain you'll find an invitation that reflects your love perfectly."
– Heidi