Couples often question whether it's really necessary to send save the dates. You are operating on a budget after all, and aren't save the dates just an extra expense? Here's Heidi, our brand director, to explain why couples end up regretting not sending save the dates.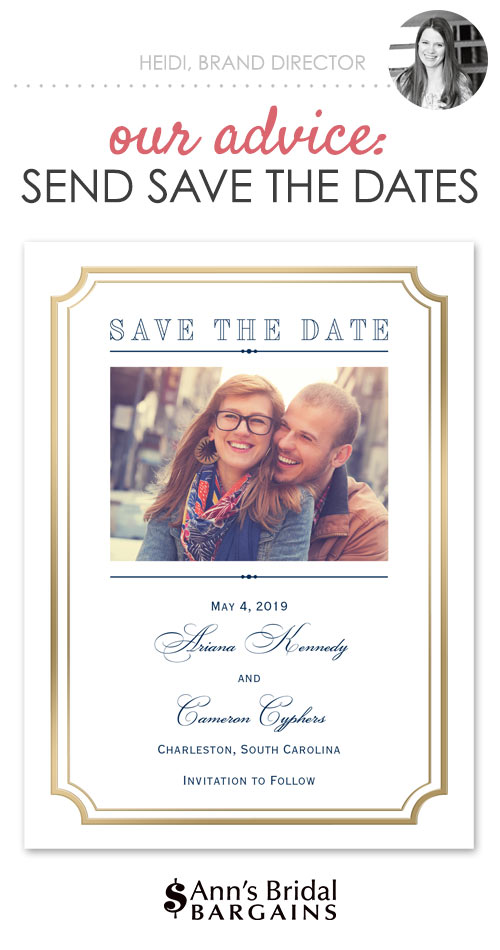 "The #1 reason couples regret not saving the dates is that they inevitably run into close friends and family who can't make it due to prior engagements. Our schedules fill up so fast these days, it's crazy how far in advance people plan. Wedding invitations don't come soon enough to reserve all the people you really want at your wedding. Save the dates, however, are sent 9-12 months before the wedding date and more than a year in advance for destination weddings.
The biggest concern for couples is the added cost, right? You're already spending money on the invitations, maybe some enclosures and eventually thank you cards. However, save the dates are usually pretty simple and fairly inexpensive. You can send save the date postcards for as low as 70¢ per card for 100 save the dates. Plus, you don't have to send save the dates to your entire guest list, only the people you want most at the wedding.
We totally understand needing to keep your wedding costs down and we are the last to encourage unnecessary spending but save the dates are the best way to ensure a great turnout, which means you'll have the best time possible."  – Heidi