Save yourself some time and stress by saying no to these 5 common wedding traditions. Guests will never notice and you'll have more time to focus on other important wedding tasks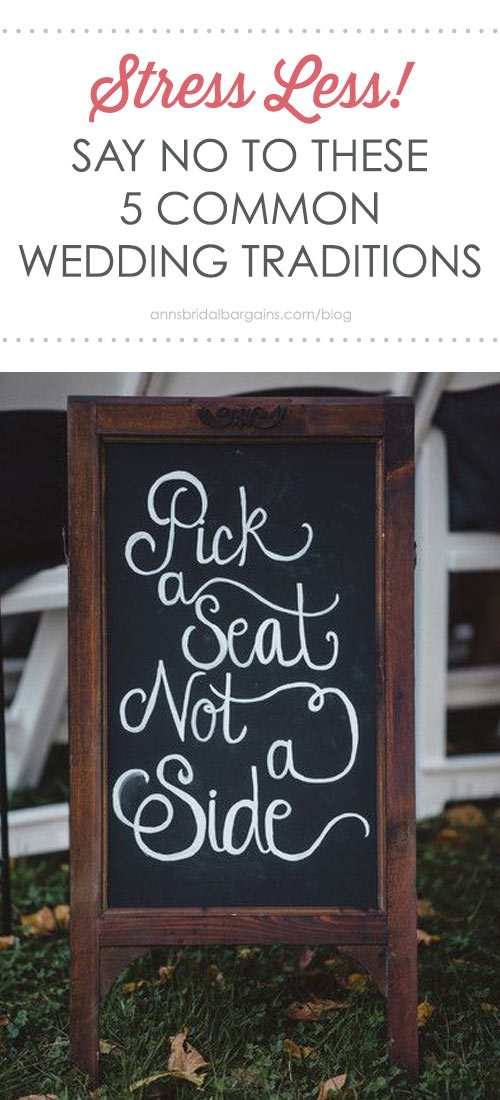 1. A Seating Chart
Seating charts are complicated, and you have to wait until the last minute to complete them because you need all of your guests' responses. Instead, you can let guests choose where they want to sit at the ceremony and the reception. Display a sign where everyone will see it that tells guests "Pick a seat, not a side" or whatever phrase you would like to use.
2. A Large Wedding Party
More and more couples are choosing to have an extremely small wedding party or none at all. How does this save you stress? Think about how much time and effort goes into coordinating the members of your wedding party, from shopping for bridesmaid dresses to hammering out the wedding day itinerary to ensure everyone shows up on time and ready to go. Plus, you won't have to worry about choosing the perfect appreciation gifts.
3. Traditional Wedding Invitations
A traditional wedding invitation ensemble is beautiful but there are some alternatives that are very affordable and may save you time and effort. Seal and Sends are a great example. They're simple, stylish and unique. No need to assemble these invitations and stuff envelopes. You just fold, seal, address and send. You don't even have to handwrite your addresses! Ann's Bridal Bargains offers an envelope addressing service or you can use address labels (despite what traditional etiquette might tell you).
4. DJ Games
A wedding DJ does a great job putting together activities and games to keep you and your guests entertained. However, if these activities aren't high on your priority list, we say eliminate them all together. Why? Because the two of you will have a lot of people to visit in a short amount of time. Games revolving around the bride and groom take you away from your guests, which might not be what you want on your special day.
5. DIY Wedding Flowers
Saving money by doing your own flowers might seem like a great idea but remember that choosing, cutting and arranging flowers into bouquets, corsages and table centerpieces is VERY time-consuming and requires skill. If you have an experienced friend or family member willing to take this task on, you can certainly let them but you will want to communicate clearly what you want and your budget. Plus, they should be thanked/compensated even if it's modest compared to what you would spend on a florist.
Photo Credits: Seating Sign: Catherine & Joey / Via Wedding Wire