Autumn weddings are incredibly charming and beautiful, not to mention there are lots of great ways to keep your special day affordable.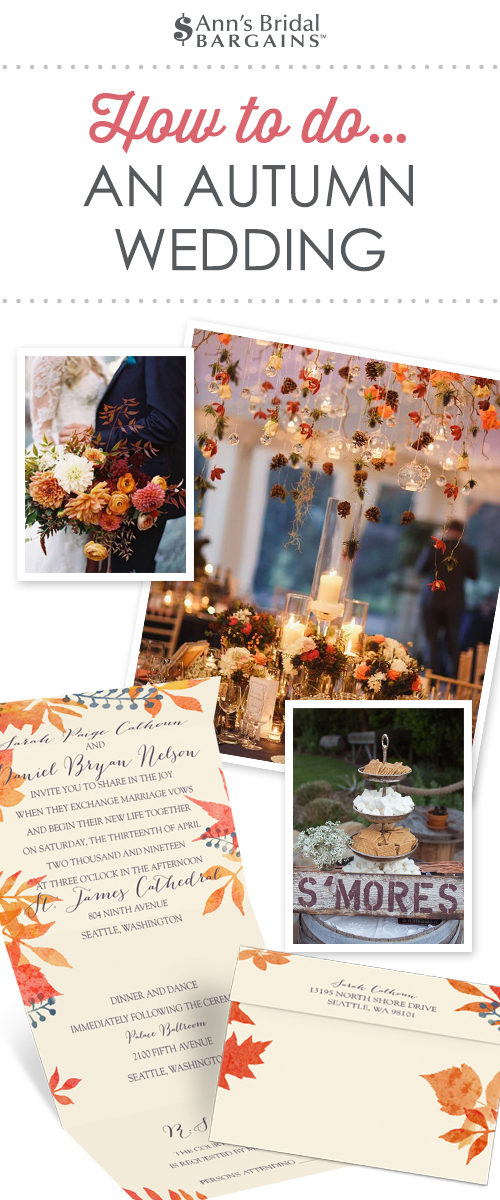 Focus on your favorite autumn colors.
Choose two or three of your favorite autumn colors. One neutral like brown, cream or harvest gold is a great place to start. Then choose one or two accent colors that really show off your love for fall. You've got some great options like burgundy red, rusty orange and bold yellow. Make sure these colors are represented in your fall wedding invitations.
Tap into nature.
Nature provides a true bounty of decoration possibilities in the fall. Everything from colorful flowers to seasonal favorites like pumpkins and gourds can be used to create a beautiful autumn ambiance. More natural elements like harvest wheat, fallen leaves and bare branches are plentiful and perfect for creating affordable decorations. Just keep your eyes open and be ready to hunt and gather.
Take it outdoors.
You don't have to do both the ceremony and reception outdoors but one or the other really sets the tone for a fall celebration. You could choose to have your ceremony outside at the family farm with fields in the background or let guests roam the grounds outside of your reception venue. Outdoor venues are often less expensive if not free, and celebrating outside will let guests enjoy the season as much as you do.
Keep it cozy and warm.
Bonfires are a great way to provide a fun activity and warmth for your guests. Package some s'more kits and whittle some roasting sticks for a delicious late-night treat. Consider providing a basket of blankets outside for anyone who wants to cozy up by the fire or just sit and relax. Getting cozy outdoors is a part of enjoying the fall weather so let your guests live it up!
Check out a few of our favorite "Get this look!" style stories for fall weddings: Carved Heart Romance, Woodland Ferns, Boho Feathers, Autumn Harvest
Photo Credits: Reception: ARJ Photography, Couple with Bouquet: Peaches & Mint by Pia Clodi via 10 stunning Wedding Color Palettes, S'more Bar: Jessica Fairchild Photography via Rustic Wedding Chic