We're all human and mistakes happen, but they don't have to! Here are some stories from our Invitations by Dawn team. Check out these tales of caution before you personalize your wedding invitations.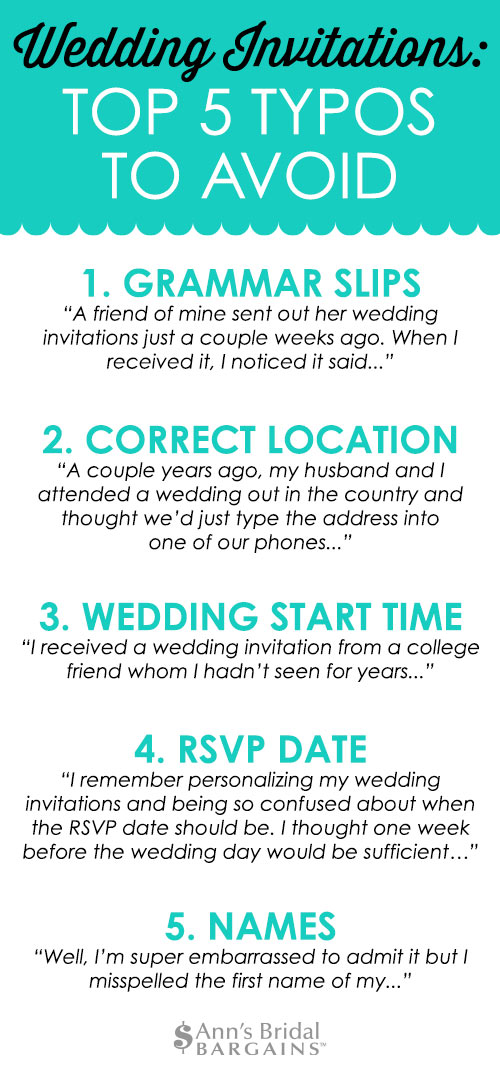 1. Grammar Slips
"A friend of mine sent out her wedding invitations just a couple weeks ago. When I received it, I noticed it said "Your Invited" instead of "You're Invited." I've noticed on more casual invitations like birthday and grill-outs and it doesn't seem like that big of a deal but I was surprised to see it on something as important as a wedding invitation. I didn't say anything though. I didn't want to be that person." – Julie, Designer
2. Correct Location
"A couple years ago, my husband and I attended a wedding out in the country and thought we'd just type the address into one of our phones instead of using the directions that were included way at the bottom of the invitation. There was a typo in the address and we ended up being 20 minutes late for the wedding, which meant it was almost over by the time we got there. Needless to say, we were both frustrated and not in the mood to celebrate…but we bounced back!" – Shanna, Content Writer
3. Wedding Start Time
"I received a wedding invitation from a college friend whom I hadn't seen for years. I was excited to catch up so I responded immediately. When the weekend of the wedding came, I looked at the invitation for the time…and there was no time listed. I had to call the bride (the night before the wedding, awkward). She said they sent out an update via email and text but since we haven't seen each other for so long, she wasn't sure if I still checked that email address. I don't." – Mindy, Project Manager
4. RSVP Date
"I remember personalizing my wedding invitations and being so confused about when the RSVP date should be. I thought one week before the wedding day would be sufficient. I was wrong! Turned out the caterer actually wanted a head count two weeks ahead of time. He was able to work with my situation but I felt bad for not checking with him before getting the invitations printed." – Pam, Data Specialist
5. Names
"Well, I'm super embarrassed to admit it but I misspelled the first name of my future father-in-law. The invitation said Philip instead of Phillip. One might think that my fiancé would have caught such a mistake but he didn't proofread the invitation wording. I had my sister proofread it. Just goes to show you, have as many people as possible proofread your wording!" Heidi – Lead Marketer
Want to make sure you catch every mistake? Start with this Proofing Checklist available from our friends at Invitations by Dawn.