The Millennial generation doesn't hold back when it comes to having a good time, and bachelorette parties are no different! More and more bachelorette parties are spanning weekends rather than just one crazy night. Spending a whole weekend celebrating the occasion sounds like a blast but it's not so fun for someone on a budget. So here are five ideas for an awesome bachelorette party weekend that won't leave your ladies broke.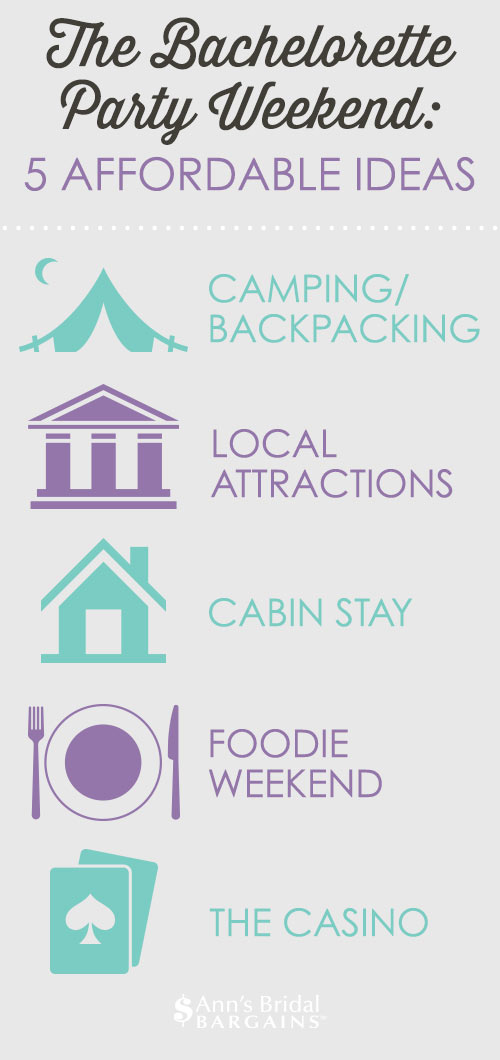 1. Camping/Backpacking
Camping is always a great way to get away without spending a lot of money. Campgrounds are never too far away and it's the perfect weekend outing for the more adventurous crowd. We recommend focusing your camping trip around a certain activity like hiking/backpacking, kayaking, tubing, canoeing, boating, etc. There are plenty of campgrounds that have these things available for rent. If you have to travel a few hours to find one, it's worth it!
2. Local Attractions
Think about all the things in your area you never make it to because there just isn't enough time or someone to go with. Flag a few of those destinations and plan a bachelorette weekend around visiting them. You can start by meeting at the bride's favorite restaurant on Friday night for food and drinks. Fill Saturday with various attractions (museums, historical sites, public gardens, breweries, wineries and waterfalls). Find a rec center with team activities like rock wall climbing or ropes courses. End the weekend with brunch on Sunday at someone's home. Make it feel even more like a weekend getaway by renting an Airbnb so everyone can stay together all weekend long.
3. Cabin Stay
Renting a cabin can be very affordable when you have several people to share the cost. Everyone can chip in for food and drinks as well. The overall cost per person is very reasonable and you get to spend the weekend just relaxing with the ladies! Bring swimsuits, water inflatables and yard games. End each night with a campfire, s'mores and a few beverages. Worried about the weather? Bring movies, your favorite TV series on DVD and board games. Or explore the nearby towns for a little coffee and shopping.
5. Foodie Weekend
A foodie weekend can range from eating out all weekend long to planning a progressive-style party where different people make different meals and the group travels from place to place. Say one bridesmaid sets up her kitchen for everyone to make sushi at lunch on Saturday and then another bridesmaid is making a traditional paella dish at her home an hour away for supper. Someone might suggest a good spot for a quick drink on the way or a great farmer's market to stop at. A foodie weekend is about getting everyone to contribute, whether it's making food or suggesting a favorite place to go.
5. The Casino
Flying to Las Vegas might be out of the question for anyone really watching their budget but local casinos are a great option! Larger casinos often have hotels with recreational pools and fitness centers not to mention plenty of restaurants and bars. However, don't expect everyone to do the same things all weekend long. Put together group activities and free time. For example, you might start the weekend with dinner and a comedy show at the casino on Friday night. Then allow everyone to go separate ways Saturday morning and possibly gather at the pool area in the early afternoon after lunch. Meet for supper and gambling that night then let everyone relax Sunday morning. Customize the weekend as much as you want!