The hottest hue in weddings isn't the usual pink, purple or even classic cream. Think bolder. Think glam. Think metallic! Gold, silver and rose gold; they're all gorgeous and thankfully, you don't have to spend an arm and a leg to land this look.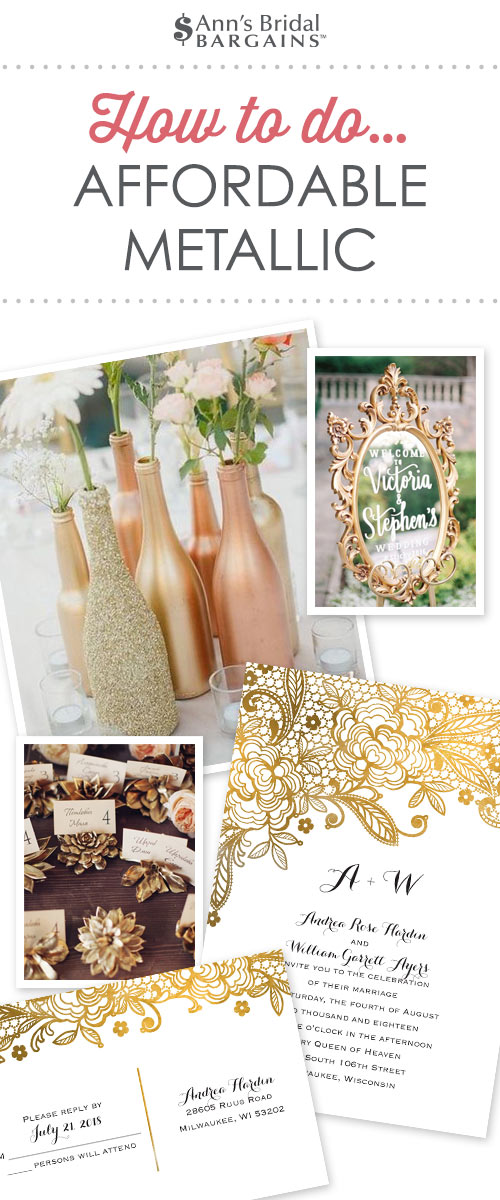 Mix & Match
The one question we keep hearing is, "Can I use more than one metallic?". The short answer: YES! You can absolutely use more than one metallic tone. Our advice is to go ahead, but know when to rein it in. Gold and rose gold can look stunning together, but use them sparingly. These multi-colored metallic DIY bottles are beautiful. Using the same finish, along with one accent piece makes them work. Other combos that work: Silver & Gunmetal, Gold & Silver and Copper & Bronze.
Drab to Fab
If you're a DIY queen, you're in luck. And if you love spray paint, you're going to be in heaven. Metallic spray paint can make anything look like a million bucks. Seriously. Have you ever seen a mason jar spray painted gold? It's like some sort of miracle! Our very favorite objects to consider spraying for to include in your wedding include: succulents or leaves. Thrift-store find like mirrors, candlesticks and vases are sure bets too!
The Key Pieces
As we mentioned, know when to use your metallic and when to say, "whoa, that's enough". Consider everything that makes up your wedding day. It starts with your invitation, ends with your thank you notes and in-between there's a WHOLE lot of details! Dress, jewelry, cake, flowers, linens…we could go on. Our advice is to create a list, and then make just a few key choices. We love this faux gold foil wedding invitation because it's gorgeous and affordable. Adding metallic jewelry for you and your maids is always a good idea. Your centerpieces are also key and we love pairing metallic vessels with flowers in a neutral tone.
Unexpected Shine
Next, pepper in just a few final details. Consider using an eye shadow with a hint of shine (you'll love it!). Wear metallic shoes. Add some metallic jewels into your bouquets and a tiny bit of shine into your groom's boutonniere. Choose inexpensive foil-stamped napkins to stock at the bar.
Want more advice on metallic wedding palettes? Check out a few of our favorites:  I want gold; how can I afford it?, Color Love: Rose Gold and Color Love: Black and Gold.
Photo Credits: Spray Painted Vases: photo By Julietta via My Wedding, Painted Succulents: photo by Sonya Khegay via Wedding Chicks, Gold Mirror: photo Julia Park via Style Me Pretty.