Bachelorette parties can get expensive especially after purchasing a bridesmaid dress, a shower gift, a wedding gift, pedicures…you get the idea. Check out these fun and affordable bachelorette party ideas the bride and her entourage will love.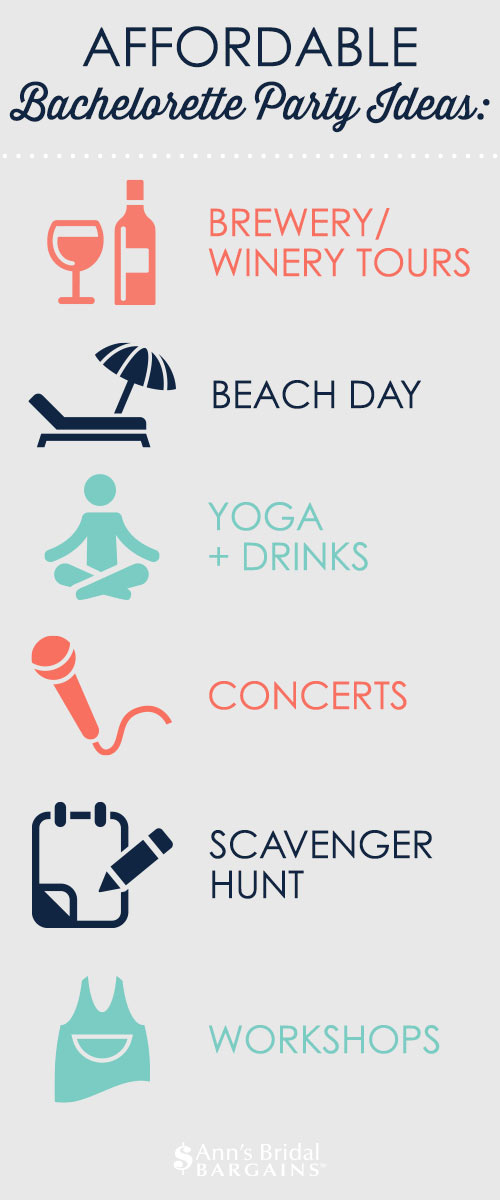 Brewery/Winery Tours – If you can score a couple designated drivers, this can be a very affordable way to drink, learn, be entertained and socialize! Bring the party back to someone's home later in the evening for a wine and pizza party because you know just about everybody in the group is going to buy a bottle or two of wine. Might as well share!
Beach Day – Grab a cooler, some beverages, sandwich fixings, a volleyball and sunscreen! A day at the beach is cheap and it's enjoyable for just about everyone. You can even play some party games like Beach Bingo or Drink If. Start a sand castle contest to really get creative. Whatever you do, just remember to relax and have fun.
Yoga + Drinks – Yoga happens everywhere these days—in the park, on a paddleboard, even at the winery. Just take your pick where you'd like to namaste yourself to wellness and let all the ladies know to bring their yoga pants and mats. Afterward, find a nice quiet spot for some apps and drinks. It's a far cry from the typical bar crawl and your bride might just thank you for it.
Concerts – Some concerts can be very expensive but you can usually find a concert or live music that is reasonably priced if not free. Center your evening around the music and plan food and beverage accordingly. Maybe the concert is outdoors and allows you to bring a cooler of beverages and food. Perhaps you want to hit up a cheap burger joint before the concert and let everyone budget for their own drinks.
Scavenger Hunt – Scavenger hunts are a highly interactive, super fun and very inexpensive form of entertainment. Scavenger hunts work exceptionally well if most of the party guests are from the same town or area. Let the bride's favorite places guide your clues and be sure to end at a place where everyone can sit back and relax. A backyard party at someone's home or an outdoor patio at a casual restaurant are both great choices.
Workshops – Crafting is very popular right now and it comes in all forms. We recommend checking out some workshops in the area that you think the party guests might be interested in. Keep cost in mind. Some workshops are far more expensive than others but here are some great ideas to get you started: cooking classes, pottery throwing, pottery painting, stained glass workshops, canvas painting, etc. Tell everyone to gather at your place for drinks and appetizers before or after to keep the whole day fun and affordable.