White and green weddings may be on-trend at the moment, but we love this color combo for its timeless appeal as well. After all, you'll never regret a wedding palette inspired by nature.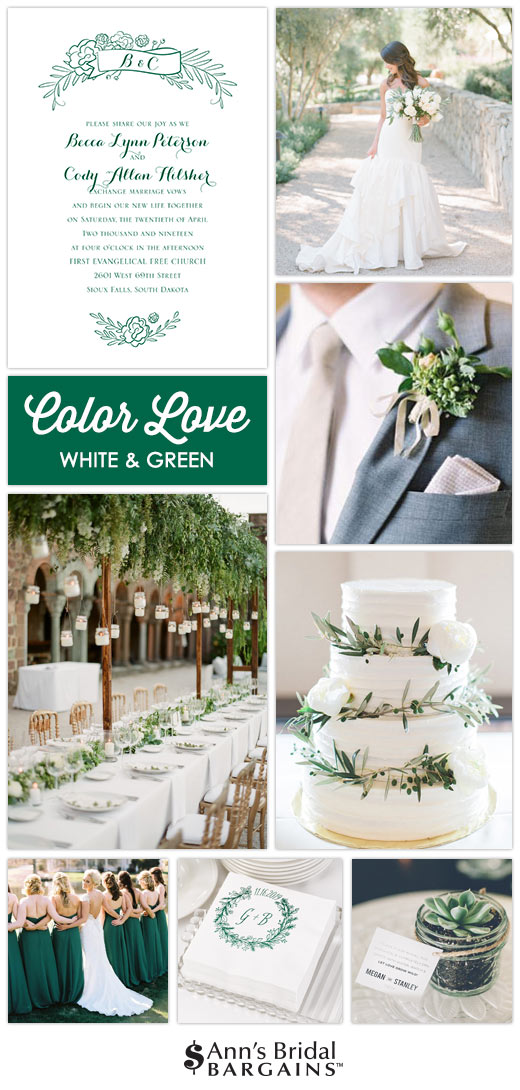 The Right Green
There are a million different greens and choosing the shade for your wedding is mission critical. To pull off this classic, fresh-out-of-the-garden look, steer clear of bright shades like lime or chartreuse. Be wary of greens with hints of blue that you find in pistachio and mint. Instead, consider the shades that are found in nature such as moss, pine or basil. We chose hunter ink one the Charming Banners invitation featured in this style story and love how it pops on the white paper.
A Natural Setting
Now that you have your perfect shade of green, it's time to consider how you'll style your wedding day. Start with your location. Choosing a venue in a natural setting will lend instant style and you won't have to lift a finger. A winery is elegant but could have a considerable cost. If you're on a budget, check out local public gardens. Most can be reserved for a small fee. Want to really get in touch with nature? Say your nuptials lakeside or have a woodland-themed wedding.
Be Choosey
Lastly, don't forget about your other color – white! Use it as a backdrop to really make those green shades pop. Of course, you'll have a white dress and it's going to look incredible with a bouquet of green ferns and white garden roses. Use white linens or table runners with pops of green and white in your centerpieces. Lastly, we love a white napkin with shiny green foil. Personalize this boho wreath napkin for an inexpensive look that's functional too.
Credits: Bride: Wedding Sparrow, Reception: Greg Fink via Brit & Co, Cake: Tracy Enoch via Southern Weddings, Bridesmaids: Graham Terhune via Mod Wedding, Plant Favor: Gina and Ryan via Mod Wedding, Groom: Bows n Ties.