Online RSVP services are extremely convenient and easy to use. Some of the most popular wedding websites like
Wedding Wire
offer seamless integration with your wedding website so not only can guests quickly respond online, they can check out the rest of what your wedding website has to offer. Sounds pretty sweet, right? Online RSVP services are quick, easy and usually free.
So what about response cards? You can still send traditional response cards or skip the response card altogether and add online reply wording to your wedding invitations. Before you decide, here are some questions to consider and wording examples. Don't worry! Ann's offers Wedding Invitations with Free Response Postcards, so you'll save money no matter what you decide. (Still trying to write your wedding invitation wording? Read our post about "How to Word Wedding Invitations.")
What does a traditional response card look like?
A traditional response card can have just a few lines on it to collect names and number of guests but it might also have meal options, song suggestions, a spot for guests to list food sensitivities, etc. Decide exactly what information you want from guests before creating your response wording.
Can I give guests the option to reply via response card or online?
Yes, and this is pretty common. You may want to send traditional response cards with online RSVP wording. This allows some guests to send in response cards and others to go ahead and respond online.
Can I get by without a response card?
Yes. Just include your online reply wording somewhere on your wedding invitation. Be sure to find wedding invitations with enough room toward the bottom to include your online RSVP wording.
Can I include other forms of contact information?
You can include a phone number and/or email address for guests to send responses to. This is a great option if you don't want to deal with getting response cards back in the mail and you want to make sure every guest is able to respond in some way.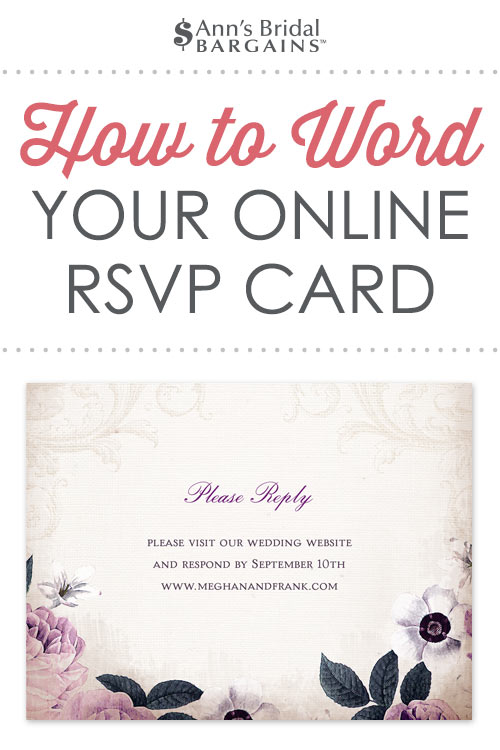 Examples of Online RSVP Wording:
Kindly reply
by September 10, 2022
at www.meghanandfrank.com
RVSP online<
by September 10, 2022
www.meghanandfrank.com
Please visit our wedding website
www.meghanandfrank.com
by September 10 to reply
Please reply
by September 10
at www.meghanandfrank.com
We've reserved ___ seats for you!