Postage is usually an afterthought when it comes to ordering your wedding invitations but this cost can add up! We've put together some great tips for saving on postage before and after you purchase your wedding invites.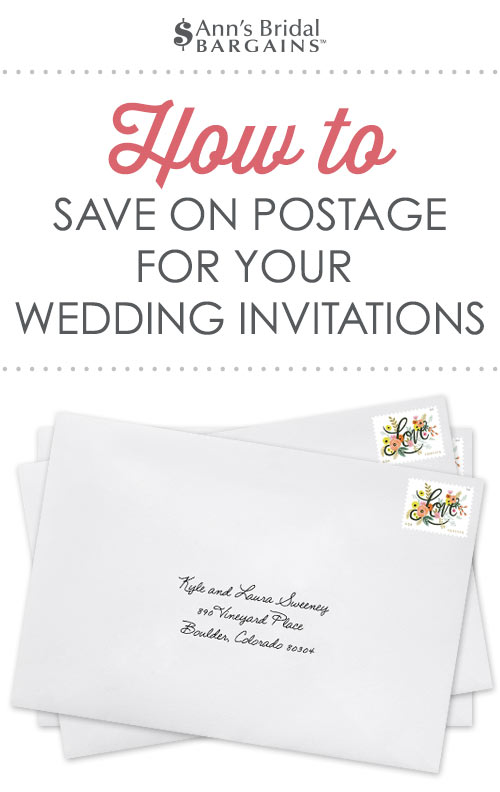 How to save on postage BEFORE you purchase wedding invitations.
Stick to standard-sized wedding invitations.
You might be tempted to purchase square wedding invitations because they're unique or pocket wedding invitations because they're pretty but just be aware that both might cost extra to mail. Square invites definitely require more postage. Pocket wedding invitations will depend on the weight of the entire ensemble. Most wedding invitations come in standard sizes that don't cost extra to mail.
Use an online RSVP service.
You don't necessarily have to exclusively use an online RSVP service. You can also include a phone number or email address for people to reply to. The idea though is to eliminate the need for an RSVP card, which requires postage. Check out our collection of Invitations with Online Reply to get an idea of what this looks like for the average wedding.
Use response postcards.
You'll notice that A LOT of the wedding invitations here at Ann's Bridal Bargains come with response postcards. That's because they are a cost-effective approach to the traditional RSVP. Our collection of Invitations with Free Response Postcards is filled with stylish invites that come with matching response postcards. You don't pay extra for RSVPs and you pay less for stamps because the postcard postage rate is lower than the standard postage rate.
How to save on postage AFTER you purchase wedding invitations.
Don't guesstimate!
Know how much you need and purchase only what you need with maybe a few extras. Check out the USPS Stamps Page to see how much stamps are right now and the many awesome designs available! (If you like a current design, buy it now. There's no guarantee that design will be available when you want it.)
Think ahead! Buy stamps early.
Buy stamps before they increase in price. To find out when the next postage increase will be, visit Forever Stamp Value. You can even sign up to get notified by email when the next price increase will occur.
Spread out the cost
If you're sending 300 wedding invitations with 300 standard response cards, you will be spending $300 on postage at the current rate of 50¢ per stamp. The good news is you can buy however many stamps you want whenever you want so consider purchasing your stamps in smaller batches spread out over a period of time.
Weigh the invitation ensemble at the post office.
Bring one complete wedding invitation in the envelope with all enclosures and have the post office clerk weigh it so you know exactly how much postage you need. If the ensemble weighs more than one ounce (which is equal to one stamp), check to see if your invitations include inner and outer envelopes. You could eliminate the inner envelope to reduce the weight. Many people love the tradition of the inner envelope though. You can read more about this in our article, What are inner vs. outer envelopes?.